Writing is not an easy job, as this creative skill set requires patience, passion and practice. Writing is also an essential part of students' university and college life, as they are required to submit a wide array of assignments, reports, and documents to earn their graduate, undergraduate, and doctoral degrees. Also, in professional milieu, you are required to have effective oral and written communication skills. Whether you want to send an email to your boss or work together on a business proposal with your colleagues, persuasive writing can help you open new doors of success, as well as express your yourself in a clear and concise manner.
Writing is the number one source of communication to share your ideas, gather information, and interact with others in different social settings. Also, people judge you based on your writing craft, as grammatical errors and incoherent thoughts are often used to judge your intelligence, character, and overall personality. Writing is quite different from verbal communication and requires thorough knowledge of grammar, punctuation, syntax, parts of speech, good diction, and other standardized rules in different writing styles.
Have you ever struggled to choose the right word to express your thoughts coherently in your academic papers or documents? Do you shy away from extensive research and need a shortcut to producing compelling documents? Are you on the lookout for some of the best free paraphrasing tools to help you ace your academic and professional undertakings? Are you planning to connect to some of the leading paraphrasing service providers in your country, city, or town?
Looking For The Reliable Solutions?
Click Here To Get Customized Services
If the answer to any of the questions mentioned above is yes, then look no further, as this article is your go-to guide to better understand the pertinence of free paraphrasing tools, their features, pros and cons as well as some of the best tools available in the market to rewrite accurate and faultless content in just a few seconds.
What are free paraphrasing tools?
A paraphrasing tool can be defined as software that helps students and researchers rewrite an essay, document or report in a way that remains undetectable by plagiarism checking software. It is used to rewrite another author's ideas differently by adding original expressions with synonyms, while conveying that author's central theme. It is also known as spinning and is quite popular among students who are always looking for handy tools to duplicate other reports, documents, and articles. Several paraphrasing tools are available online; however, some tools charge a minimal amount to create a student account. Some free paraphrasing tools include Qillbot, Spinbot, Duplichecker, and others.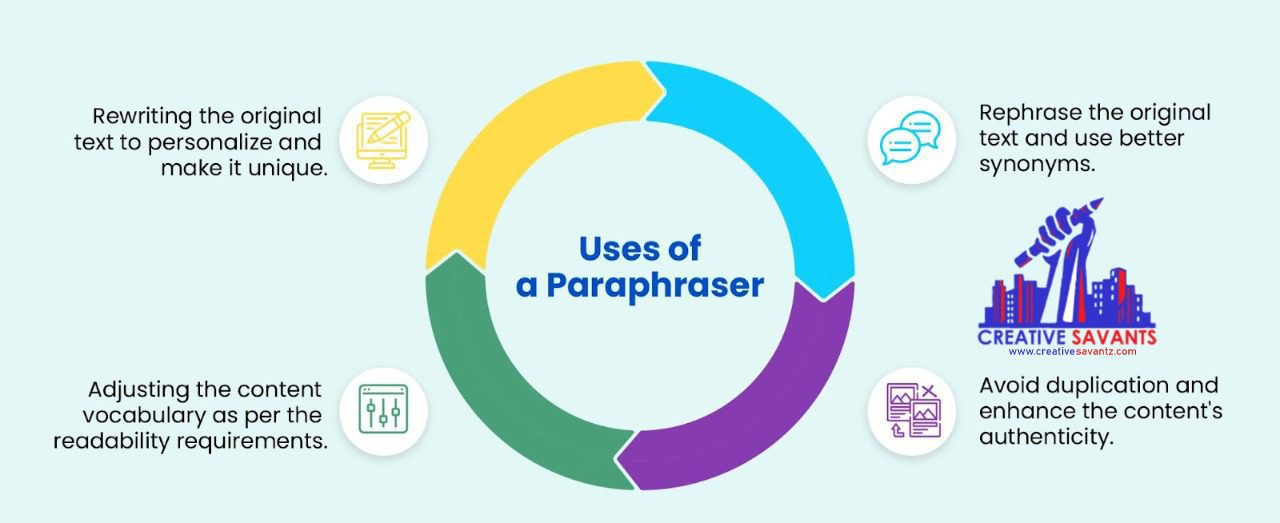 Pros and Cons of free paraphrasing tools
Developing new content is not an easy task and requires the right experience and skills to nail it. Professional writers can help you, but their services can sometimes be costly. However, free paraphrasing tools are your window of opportunity to create original and unique content without worrying about budget and accuracy.
These free paraphrasing tools have an easy-to-use interface and can rewrite content in less than minutes. These paraphrasing tools are also handy for digital marketers and SEO experts to improve text readability, decrease the plagiarism count, and rewrite old content with sheer accuracy.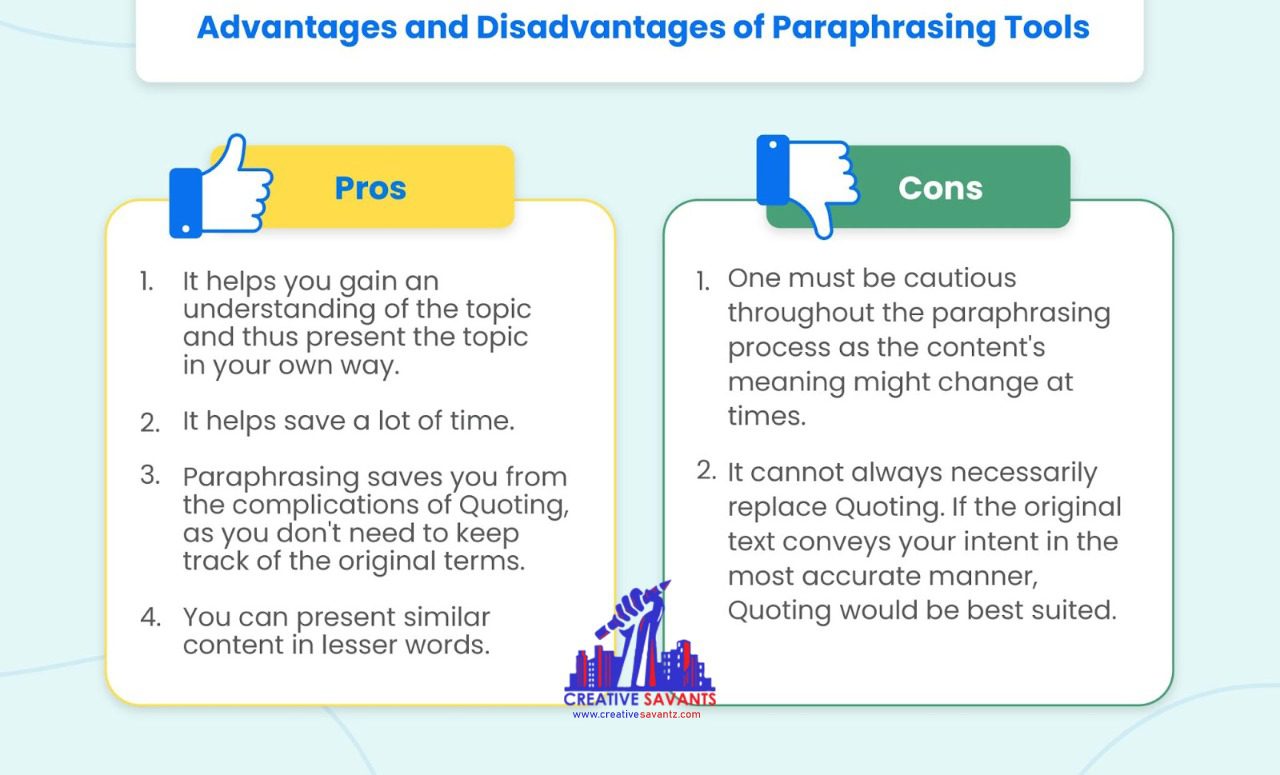 PROS of free paraphrasing tools
Free plagiarism tools have countless benefits, some of which includeEasy to use and helps save valuable time Conventional writing needs ample time for ideation and research before executing the task at hand. The internet is a den of information. At times, it can be overwhelming for a novice researcher to pick up the most suitable or appropriate information and spin it to avoid plagiarism and copyright issues. However, free plagiarism tools can rewrite a thousand-word article in less than thirty seconds, saving your valuable time and energy. Now you don't need to scan hundreds of web pages, articles, and documents to impress your teachers, employers, and colleagues.
Consistent and accurate results if you hook up with the same tool
Looking for the most reliable paraphrasing services in your town can be tedious. Hundreds of professional paraphrasers and rewriters flood your browsers and emails. However, some of these paraphrasing service providers are authentic. But that's not the case with free paraphrasing tools since you can choose the most relevant and authentic tool in the comfort of your home. All you have to do is search, study their different presentation styles and interfaces, and choose the one you believe is reliable and authentic. Remember, consistency is the key, and stay hooked up with the same tool rather than switching now and then.
These tools improvise clarity and brevity
Complicate and complex concepts such as financial planning, economic and quantum physics can be too much to handle for beginners. Technical jargon used in medical papers or technical blogs can go over an average person's head. But here, rewriting tools can jump in as your true saviors. They cannot only help explain these complicated topics in straightforward language, but can also remove confusing and wordy phrases to improve the quality of content, reduce bouncing rates by enhancing user experience and boost search rankings.
Read More: What is the importance of rephrasing or paraphrasing?
Eliminate plagiarism concerns
Plagiarism detecting software checks your content against other documents, articles, assignments, and reports in their search engine and is pretty challenging to dodge. Several websites copy-paste data to their blog posts or other sections in a bid to manipulate the algorithm. However, Google has a flawless mechanism to crack down on this practice and does not rank data until and unless it organically contains unique and trending keywords.
Free paraphrasing tools allow you to present already written data in a unique and novel manner, eliminating the risk of detection by the plagiarism detecting software. However, do not copy-paste vast chunks of data in the rewriting tool. Try to add one or two paragraphs and improvise their overall structure, not the entire article or post.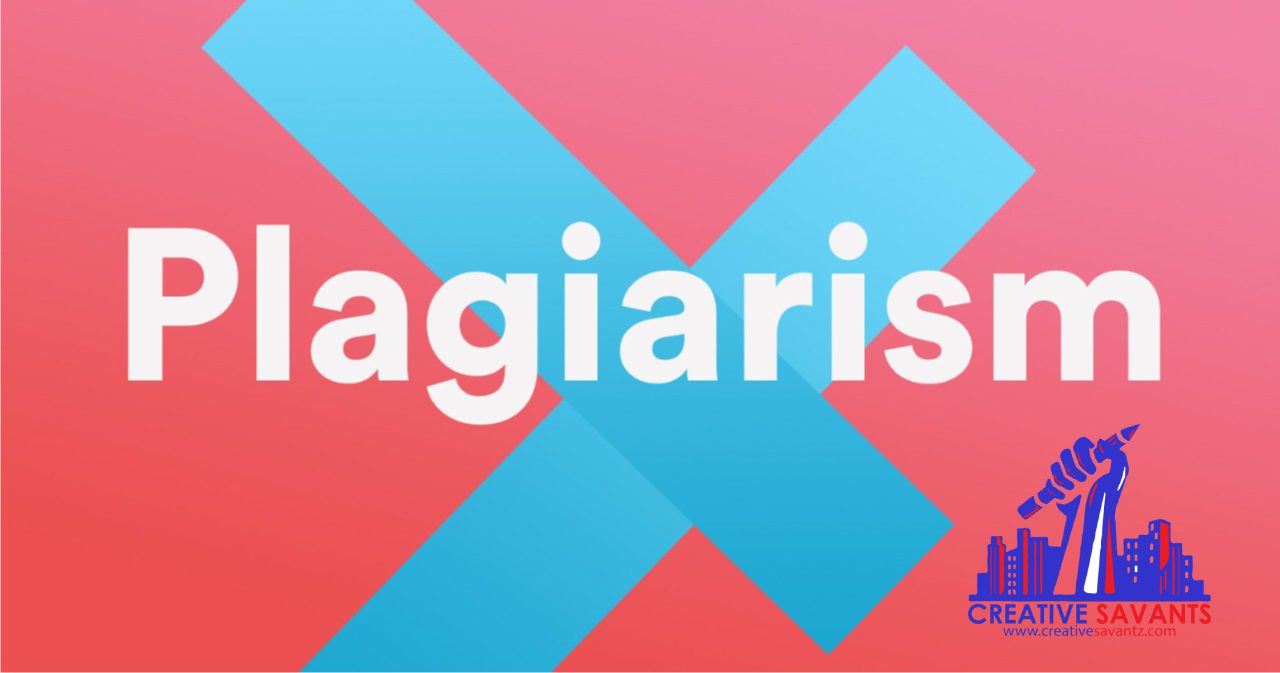 Easy accessibility
Hundreds of reliable and authentic free paraphrasing tools are available online, which can be used on different devices and operating systems. Most of these tools are available online; you need a stable internet connection and browser to access them anywhere.
User-friendly
\Some of these free paraphrasing tools have straightforward, easy-to-use interfaces that make rewriting a breezy experience. You do not have to expend hours to understand how these tools work, as they are compatible with laptops, computers, and even smartphones and require minimal effort to get started. You do not have to be a top-notch researcher, a tech expert, or a student with special skills to ripe the countless benefits of these free paraphrasing tools.
Offers best proofreading features
Proofreading is an integral part of the writing and the editing process. A little typo, punctuation, or grammatical error can easily slip past, if you proofread your documents manually. However, these best paraphrasing tools in town are pretty effective in eliminating grammar mistakes, pinpointing punctuation errors, correcting spelling mistakes, and supporting incoherency in text. You can trust these tools to ace your document's proofreading. However, some of these tools are inaccurate and require manual proofreading to avoid blunders.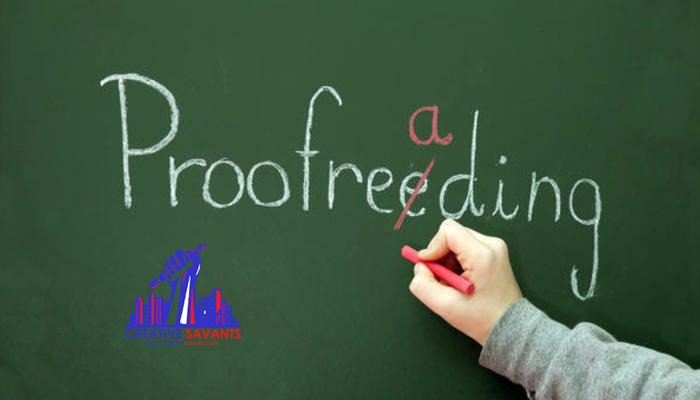 They support different languages
Do you know that Chinese is one of the most widely spoken languages in the world globally? It means that most native speakers are not fluent in English, making it challenging to target them due to language barriers. However, some of these free paraphrasing tools offer multi-language support features, offering translation services with the help of al-powered technology. So now you don't need to worry, as these rewriting tools are available to rescue.
Refines writing style and narrative flow
These free paraphrasing tools allow you to improve the fluidity of your copy, text, or document by omitting repetitive words and replacing them with solid diction. It also eliminates grammatical issues, helps you learn new synonyms, assists you stick with the same tone, and explores new ways of expressing your ideas and thoughts coherently. Some free paraphrasing tools also allow you to choose the tone of your content so you can sky-rocket your click-through rates and speak in a relatable tone and voice with your target audience.
Read More: Understanding Paraphrasing and Paraphrasing Exercises
CONS of free paraphrasing tools
Paraphrasing tools also have some cons, which includeThe quality of the content can be compromisedThe quality of rewritten text can be compromised at times. All of these free paraphrasing tools are built uniquely and are pretty different from one another in terms of their features, interface, and the technology they employ. These rewriting tools are efficient and convenient. However, they cannot match the intelligence and accuracy of human rewriters. All the rewritten material needs to be checked manually, or else you can make factual, broken sentences, and typo errors.
Looking For The Reliable Solutions?
Click Here To Get Customized Services
Also, these automated tools can negatively impact your SEO strategy, as the developed content looks unprofessional and creates distrust among your readers or viewers.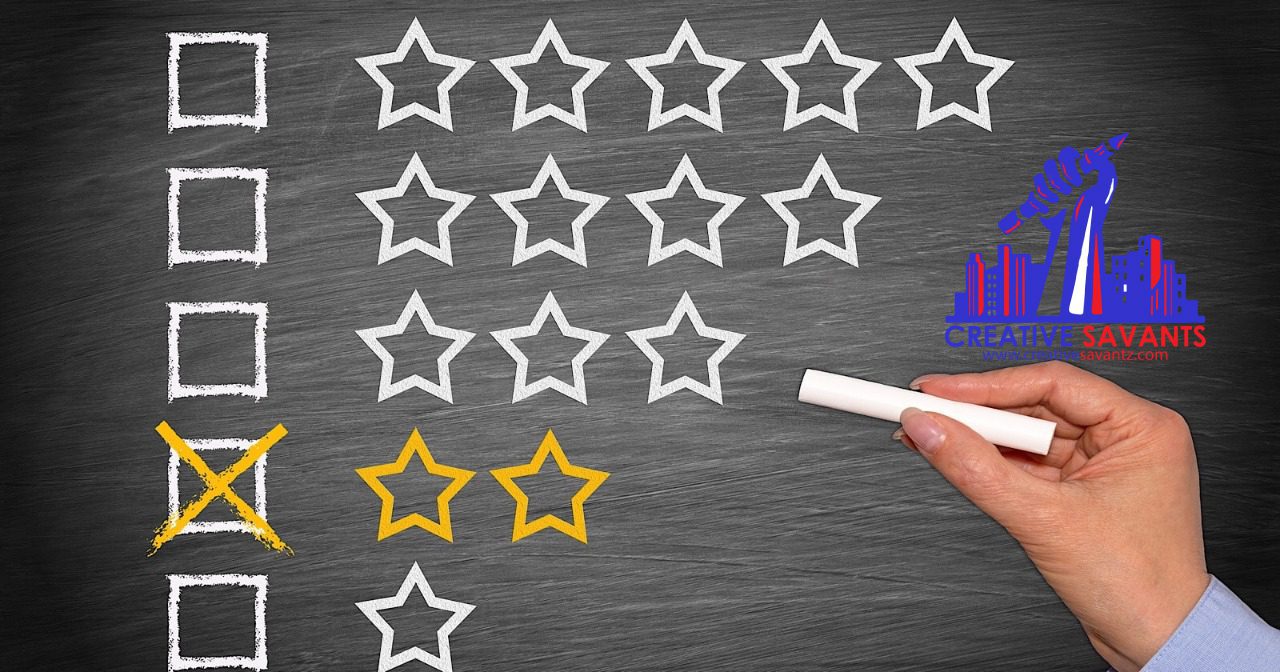 Legal and copyright issues
These free paraphrasing tools cannot save you from copyright infringement issues, if you don't cite your sources or give them the due credit, even if it is just an honest mistake. Also, several companies use automated systems to detect plagiarism, which look for specific patterns in the document or written material and compare them with the original piece. In case they find any similarities, you are in trouble then!
Google penalizes copied content
Some of the leading tech minds have developed Google's search engine, making it difficult for these free paraphrasing tools to escape its wrath. For Google, copy-paste content is a big no-no, as its central policy clearly mentions that duplicate content can affect a site's ranking and can entirely remove it from the Google Index. Poor quality rewritten content is always prone to be highly similar, despite a few changes, making it susceptible to duplication charges.
Paraphrasing tools can be expensive
Some of the best paraphrasing tools available on the market are not free of cost and charges hundreds of dollar to rewrite content in bulk formats. It means that students with a strict budget might not be able to afford the premium versions, forcing them to rely on free services that are prone to inaccurate rewriting and grammar and syntax issues.
Not all tools are reliable
A diverse range of free paraphrasing tools are available on the internet. However, not all are reliable in producing top-notch and faultless content. Some of these tools have a bad reputation for creating reader-friendly content or producing understandable and natural content.
Proofreading feature unavailable
Some of the online paraphrasing tools do not offer proofreading features. Once you have created the content, you must manually check any errors or plagiarism issues. You have no option but to use third-party tools or expend your valuable time making the suggested changes.
Detectable to the human eye
Spinning tools can easily get caught by the human eye if it is not done correctly. Spinning the content is an easy task. However, content can lose its quality and coherence during the rewriting process.
Read More: Turnitin's Privacy Policy for Students, Teachers and Researchers- July 2022
List of free paraphrasing tools
Whether you are writing an academic report, an article, or a document for your boss, you need to be diligent with the diction you use and how you articulate your thoughts comprehensively. You always want to deliver unique and original ideas with minimal effort or research, which is only possible with the help of free paraphrasing tools.
Some of the most prominent free paraphrasing tools include:
Quillbot paraphrase tool
Quillbot paraphrase tool is one of the most popular tools that offer both free and paid options to its users. This comprehensive writing collaborator tool employs Al technology for its users to either rewrite or paraphrase documents, reports, and other written material. It encompasses both a summarizer and a paraphraser, but its paraphrasing and rewriting tools are the most accurate to rewrite paragraphs and enhance them to create 100 percent unique and original content.
Looking For The Reliable Solutions?
Click Here To Get Customized Services
Quillbot paraphrase tool was initially launched as a full-sentence thesaurus for students and professionals to help them write confidently and efficiently. However, over time this paraphrasing tool evolved and is now used for drafting official emails, preparing dissertations, writing reports, translating documents, and much more.

Quillbot paraphrase tool offers a wide array of features and modes for its users, including
Standard mode (default mode that makes changes, while maintaining the actual meaning and ensuring that the text sounds natural)
Fluency (an al mode that makes your text grammatically sound and natural by making the least amount of changes in the content)
Creative (a mode that makes changes in the uploaded text, while altering the meaning and overall coherency of the text)
Creative+ (an al-based mode that allows you to improve the text by making it more intuitive)
Formal (a mode that makes changes in the content keeping in mind the formal audiences and is suitable for reports and academic undertakings)
Shorten (a mode used to reduce the content, while retaining its meaning and reducing the overall word count)
Expand (a mode that allows the user to increase the overall word count),
Another feature of Quillbot paraphrase tool is the word flipper, which allows the user to modify or improvise the words in your results that were previously replaced with suitable synonyms. Its al-powered thesaurus can help you choose the correct word by replacing repetitive or less catchy words or phrases.
Furthermore, Quillbot has an easy-to-use interface that uses machine learning to understand and improvise writings. However, while paraphrasing or rewriting text, Quillbot includes no spaces after periods, line breaks, and mixing English and non-English letters.
Paraphrase Online
This online free paraphrasing tool assists users in rewording articles, documents, and other forms of written material with 100 percent accuracy. This easy-to-use paraphrasing tool does not have a complicated interface and is ideal for students, professionals, and newbies. Also, this tool offers a native reword generator so you can reword your text according to your preference. Paraphrase Online allows you to reword single words without cost and create content for blogs, articles, websites, and documents without hassle. However, proper citation and references are essential, or your content will be considered a copyright violation.

Spinner Chief 
This free paraphrasing tool helps you reword content that is unique and readable by humans. This Al-based online tool allows you to understand content such as search engines. It employs statistical replacement technology to replace your previous words with the most appropriate statistical words or phrases. Some of its advanced functions include an auto grammar fixer, a cloud thesaurus with synonyms in more than 20 foreign languages, and a new sentence and paragraph swap spin function to make your content original and unique.
Its ContentBomb feature allows you to convert copied content into newly produced written text that can pass through plagiarism-checking software.Spinner Chief offers both free and paid versions for its users. Its premium packages include Elite which offers 100 percent accurate results with zero plagiarism, while Team is best suitable for managing a group of employees or students.

Spinbot
Spinbot is an automated paraphrasing tool that rewrites content efficiently and quickly, while maintaining its authenticity. This free paraphrasing tool allows you to market your products and produce creative websites with the least amount of effort, so you can draft effective and targeted messages for your prospective clientele.
With Spinbot, you can easily content of around 1000 words or 10,000 characters with just one click- saving your money and efforts in creating unmatchable and out-of-the-box content. You do not have to sign up or register to use Spinbot. However, you must enter spintax to develop newly reworded content, as Spinbot does not convert spintax formatted results. Also, premium and paid subscription plans are available for users.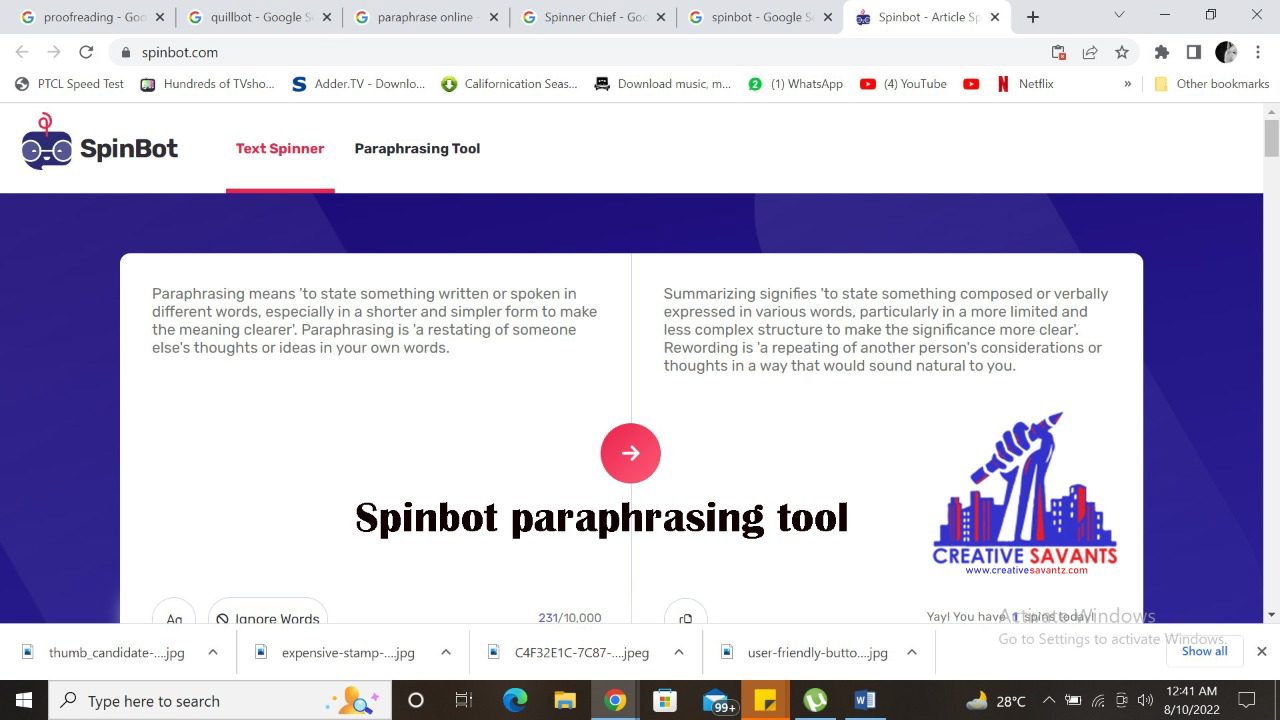 Duplichecker
Duplichecker is a free plagiarism checker, spelling checker, grammar checker, and paraphrasing tool. This handy tool helps you reword straightforward content with the least effort. You can use it without signing up and registering on the website. This article spinner works uniquely and saves your valuable time on tasks such as researching for the right set of synonyms for your content, when completed manually.
Duplichecker uses advanced al-based technology that helps users reword content in batches. Its extensive synonym library and grammar and spelling checker feature provide you with the ultimate solution to your professional and academic content creation worries.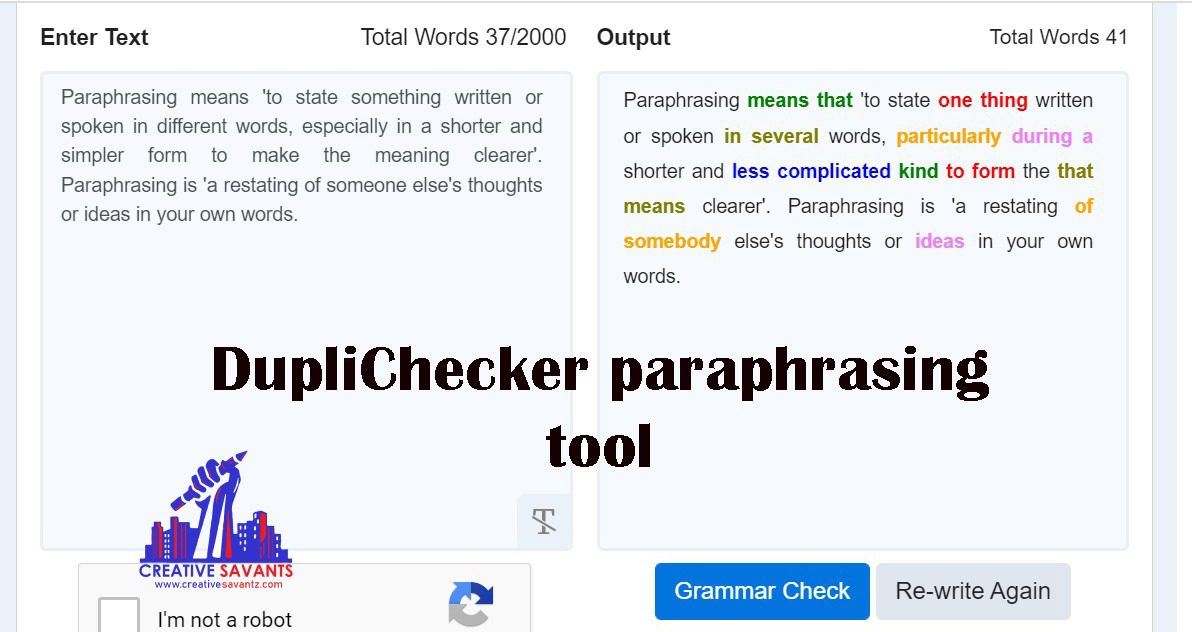 SEO Wagon
This free paraphrasing tool is ideal for content writers, SEO specialists, digital marketers, and bloggers who are always on the lookout for creative and engaging content to endorse their services, advertise their products, and better communicate and interact with their target audience. This rewriting tool helps you develop authentic and unique content for different social media platforms.
SEO Wagon has an extensive library of over 500,000 synonyms suggested per the user's content needs. Its automated engine reads your text and then offers the best spinning services so you can develop your content without any hassle. While this tool is free to use, one of its major drawbacks is that you can't rewrite the exact text twice, as the spinner marks such content as spam.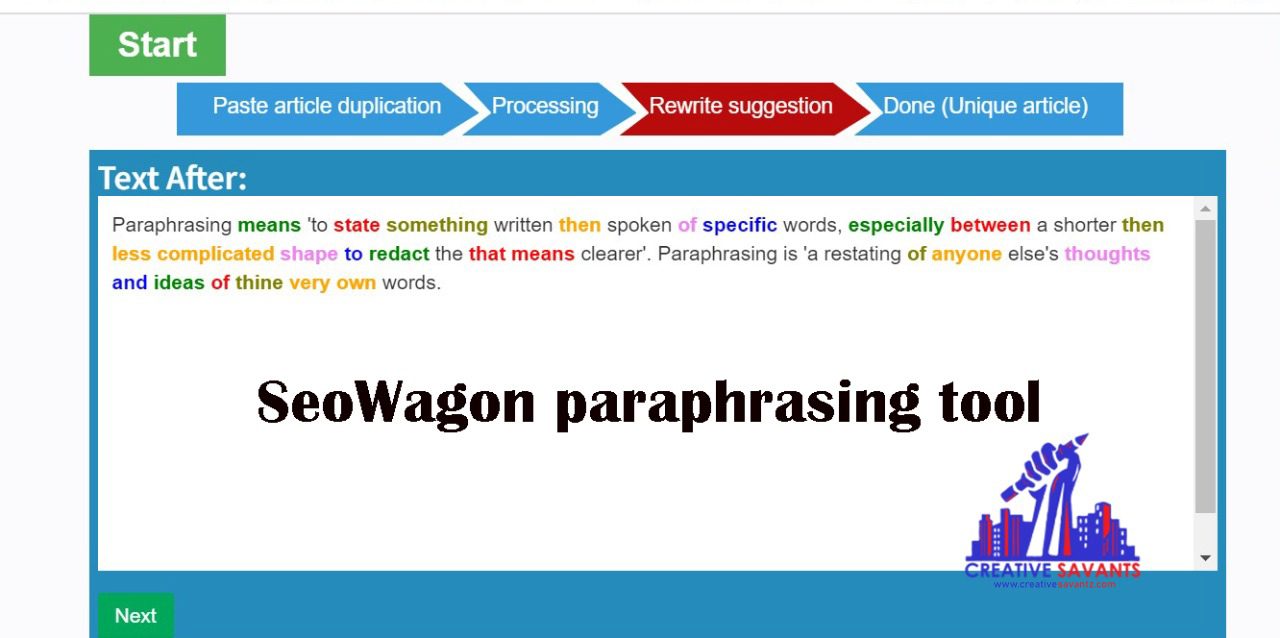 Prepost SEO
Prepost SEO is one of the best paraphrasing tools in the market, as its interface is easy to navigate and delivers optimum quality content without altering its context. It replaces old words with unique and relevant synonyms so that you can produce plagiarism-free content as a student, professional, and even freelancer. This free paraphrasing tool uses an advanced algorithm and allows you to upload all types of file formats without any restrictions. Some other features of this handy tool include a readability checker, plagiarism checker, grammar checker, word counter, and keyword density checker.

CoderDuck
This free online paraphrasing tool can rewrite your content in seven different languages in just a few seconds. This tool produces 100 percent accurate and human-readable content without signup or lengthy registration. All the articles generated by this tool are 90 percent plagiarism free.

Spin Rewriter
This unique paraphrasing tool uses emulated natural language technology to rewrite accurate and authentic content that ranks well on different search engines. This free paraphrasing tool offers mass export, photo integration, and the ability to spin bulk content. Also, this tool works on all types of devices and supports spintax styles.
Spin Rewriter also pinpoints the meanings of different words in your content or writing and then explains how they relate to other words to support the context. With the help of this tool, you can also add relevant images to your text file. Spin rewriter generates up to 100 unique versions of your text file, extracts data from different paragraphs, and selects the most suitable spintax style. Its premium packages are expensive. However, they include unlimited paraphrasing services and access to the ENL spinning algorithm.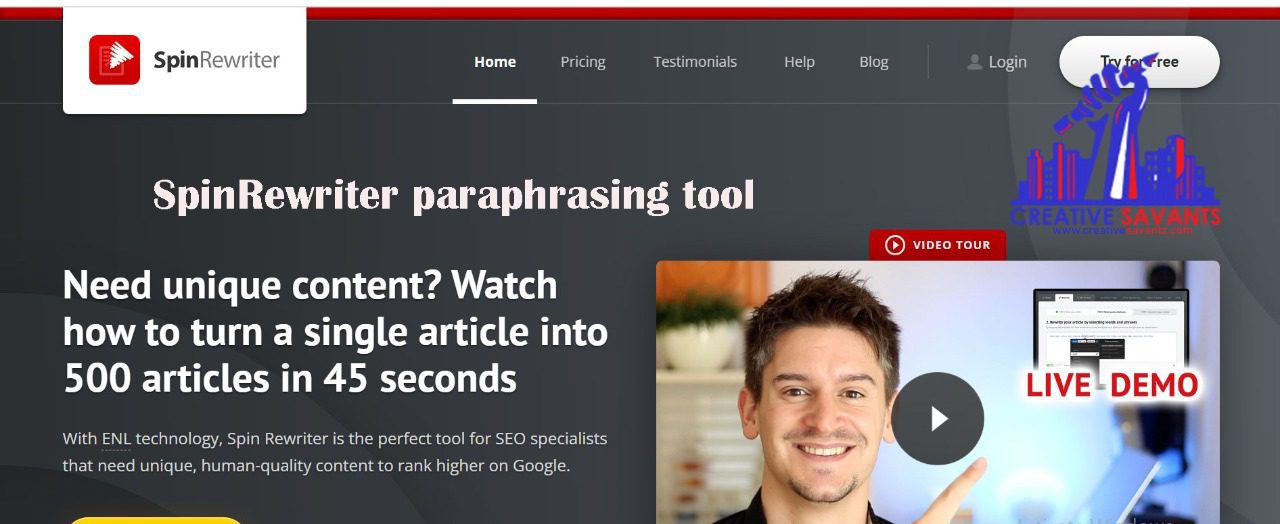 Read More: How to secure Webassign Answers Online and Hack Webassign Answers Key- July 2022
Can Al-based technologies compete with humans in rewriting and paraphrasing with 100 percent accuracy?
Paraphrasing tools allow you to understand the meaning and context of your source document, so that you can spin and rewrite it in your own words. It assists you in reducing plagiarism, replacing old phrases and words with novel synonyms, and use relevant keywords to help your website rank better on the search engines. However, these man-made tools have their own set of limitations which cannot be ignored, mainly if you are on the lookout for a hundred percent plagiarism-free content.
The main problem with these free paraphrasing tools is that most of their features are available on the premium packages, which costs an arm and a leg for students, beginners, and freelancers. None of these automated tools are 100 percent accurate and cannot replace human copywriters and paraphrasing service providers.
For instance, if you want to create an academic document, you require extensive research and literature to support your main argument. For this, context and relevance of information are highly pertinent, which requires human effort. None of the available paraphrasing tools hold the ability to create well-researched content by quoting different kinds of data to substantiate the claim.Even though these free paraphrasing tools commit human-level rewriting abilities, the outcome they produce often appears as copied text.
Looking For The Reliable Solutions?
Click Here To Get Customized Services
Regardless of passing your content through the spinner, you are always required to check the content manually. Also, these rewriting tools cannot remove plagiarism with utmost accuracy, which makes the produced content susceptible to powerful plagiarism-checking software such as Turnitin.The only solution to produce unique and creative content is to hire the best paraphrasing service providers or human spinners to rewrite and edit your content with sheer accuracy. Humans perceive things differently- a trait impossible for the computer or technology to replicate.
Paraphrasing service providers can handle everything from marketing copy to website content, academic writing, and research writing. They can produce compelling and persuasive blogs, social media posts, reports, emails, and more. These professional providers not only understand the ABC of writing but are well-versed in producing content that can engage readers.To conclude, free paraphrasing tools cannot compete with humans. However, they can be helpful if you are a well-versed writer looking for some additional help. They can also be helpful for novice writers, but for them, it means proofreading the text again and again to avoid any errors.
Conclusion
Writing is a creative process with many ups and downs, requiring extensive time, commitment towards your end goal, and the mental energy to make revisions, if required. With the help of free paraphrasing tools, you can ease this intricate process, as these tools allow you to synthesize, comprehend and express old information uniquely and originally.
Both students and professionals struggle with their writing skills and the ability to communicate comprehensively. However, with the help of online paraphrasing tools, they can improve their work's quality and develop their craft by better understanding language rules, the correct usage of synonym, proper punctuation, and grammar issues. If you are looking for a hundred percent accuracy and plagiarism-free content, feel free to contact Creative Savants- the home of professional copywriters and paraphrasers, who are available 24/7 to handle your professional and academic queries.
We charge nominal rates for paraphrasing and rewriting well-researched content free of grammar, punctuation, and spelling mistakes. We are proud of our high-qualified team of writers that are well-versed in all types of writing, such as academic writing, website content development, copywriting, report writing, paraphrasing, and proofreading. So what are you waiting for? Contact us right away.