Having Plagiarism in the copy you have written will definitely harm you, whether you are a professional writer or just a college student. It is essential that your work is always free of Plagiarism, deliberate or unintentional.
For that, you will require a tool such as the "Chegg Plagiarism Checker." Chegg offers a Plagiarism Checker in its Writing Pack that we are going to review here.
We will take a brief look at Chegg's Plagiarism Checker tool to find out how capable it actually is. We will go through its features, pricing, and pros & cons. Along with this, we will also compare it with some of the best Plagiarism Checker tools Plagiarism Checking Tools  in the market. After that, we will help you decide if you should invest in it. Let's begin.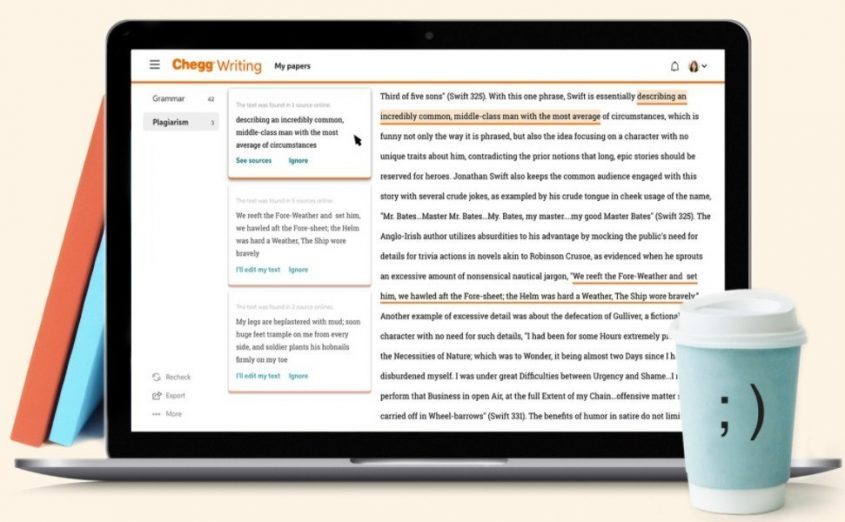 Detailed Review: Chegg Plagiarism Checker Tool
Whenever you write something professional or academically, you must make sure that it is free of plagiarism. If you don't do that, you could face serious consequences. Plagiarism is the act of copying content from a source and then passing it off as your own. For example, when you copy something from Wikipedia and publish it on your blog without citing the source, then it is an act of Plagiarism.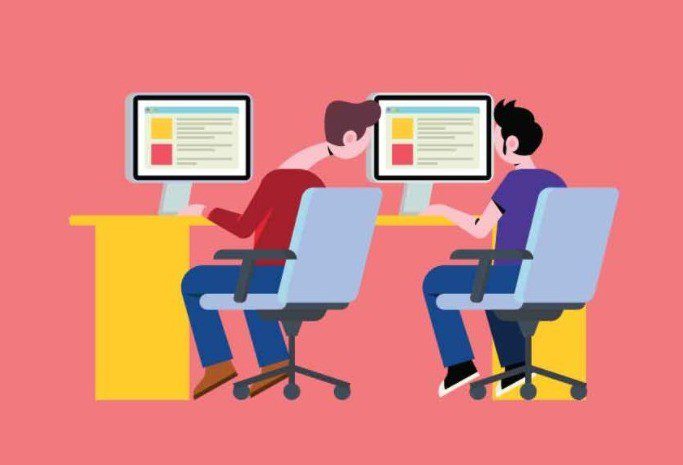 Plagiarism can waste your hours of effort and lead to critical punishments like your suspension from college, or your website will be taken down. To save you from all such disasters, Chegg offers a "Plagiarism Checker" tool in its 'Writing' membership. Chegg is widely known as an online education platform that helps students with their homework. Along with this, it also offers different services like Bookselling, Tutoring, Plagiarism-Checker, etc.
Chegg's Plagiarism Checker is able to detect Plagiarism in your writing and then helps you to remove it. It is able to find both deliberate and unintentional types of Plagiarism. The deliberate-plag is when you copy a text from a source knowingly, and the unintentional-plag is when your writing matches with someone else's, coincidentally
Features & Benefits of Chegg Plagiarism Checker
Chegg offers the Plagiarism Checker tool in its "Writing Help" membership. The plan comes with four main features:
Plagiarism Scans & Removal
Advanced Grammar Correction
Format Correction
Expert Check
The Plagiarism Checker tool scans your paper for plagiarism against billions of sources, using a technology similar to Turnitin and other similar tools. It thoroughly goes through the text to find any missing or incorrect citations in your writing. It also detects any copied sentences and shows the source to which it matches.
Once the Plagiarism report of your paper is generated, you can either remove Plagiarism by modifying the sentences or cite proper sources. This will save your work from getting rejected and penalized.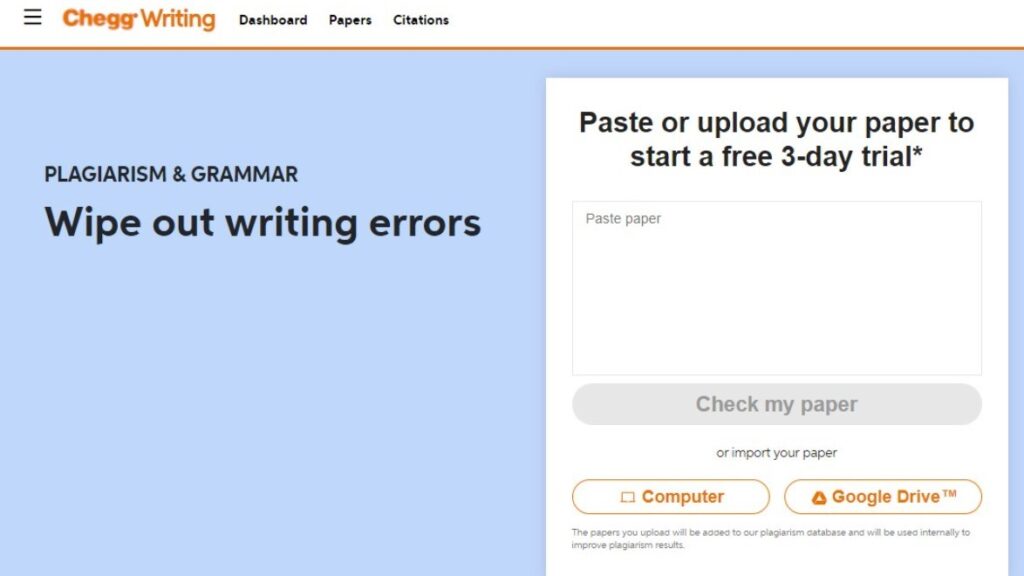 Chegg's Writing Help also includes an advanced Grammar correction tool that catches 200+ types of Grammatical errors to save your grades. The "Format Correction" feature helps you to make your writing short, clear, and precise with advanced suggestions by Chegg's partnership with Purdue University Online Writing Lab.
After all of this, you can get an expert to proofread your paper on any subject within 24 hours to get personalized comments and opinions. This can help you to make your writing free of any sort of error.
How much does it cost?
By now, you would've already figured out that Chegg doesn't offer the Plagiarism Checker tool individually, but it comes as a part of the "Chegg Writing" subscription. Chegg's Writing Help membership that is precisely developed for college students as well as professional writers and freelancers costs $9.95 per month. For this amount of money, you will get the complete help that you will need for your writing.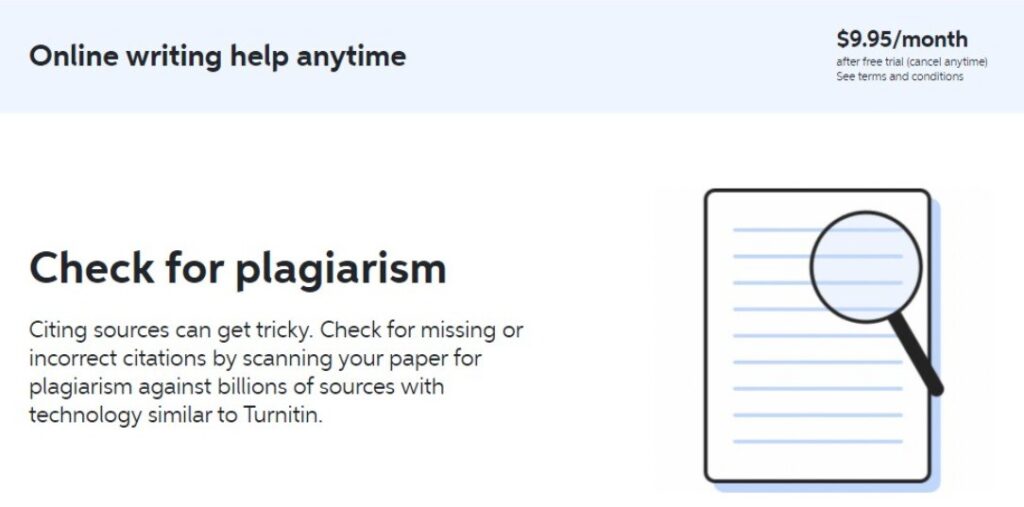 You will get a Plagiarism Checker, Advanced Grammar Corrector, Format Corrector, and Expert Checks. It is a pretty good deal that all of these tools will help you reach that "A+" grade you've always dreamt of. If you want to try them all first, you can claim a 3-Days Free Trial that Chegg offers for all new subscribers.
You can also read about How to get  Free Chegg Accounts For Academic Suppot 
How does it square-off against the competitors?
To find out if Chegg's Plag-Checker is worth the money, we compared it with some of the best Plagiarism Checker tools available out there. We tried comparing it with Turnitin (which is acclaimed as the #1 Plag-Detection tool), Copyscape, and Grammarly. Our findings are available in the next section of this Chegg Plagiarism Checker Review.
Chegg Plagiarism Checker vs Turnitin
Turnitin is known as the best Plagiarism Checker tool on the web. It receives 1 million+ submission every day and processes them for plagiarism against billions of sources available on the web. Chegg uses very similar technology to Turnitin and hence, offers very accurate results.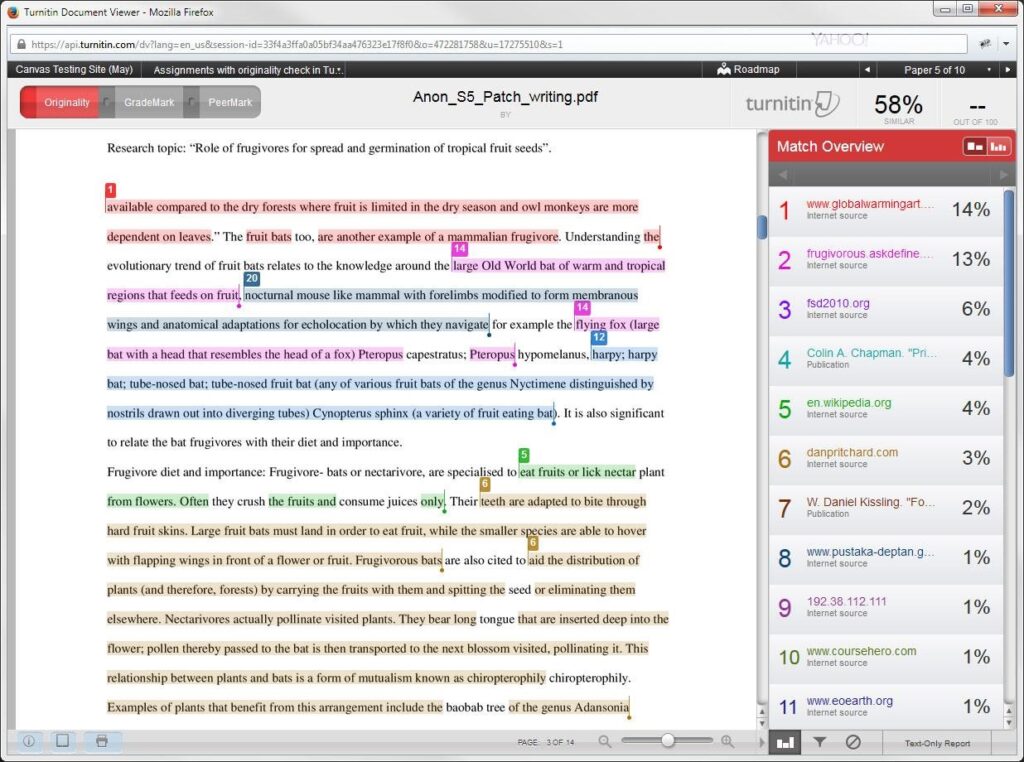 On comparing them side by side, we noticed that the results of both Plagiarism Checkers are almost the same. However, Turnitin falls on a bit expensive side. It starts from $18.95 per month. If budget is your concern, then Chegg will have an edge.if you need free report form Turnitin plagiarism checker free online you can get it from us.


Submit Your File For Turnitin Plagiarism Checking!
Service Status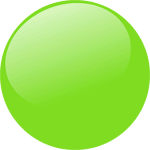 Online! ([wpforms_entry_total form_id="11130″] Questions in the Queue) Refresh
Please refresh the page to check the current Service Status & number of documents in the queue right now. Documents uploded here are not added to our database and will never be shared.
You can also read 5 tips to avoid plagiarism from your document,
Chegg Plagiarism Checker vs Copyscape
CopyScape is another very popular Plagiarism Checker tool that is Search Engine based. It checks your writing against billions of web pages to detect Plagiarism. On comparing Chegg's Plag-Detection tool with it, we found out that CopyScape is better than Chegg in reporting "Unintentional" plagiarism.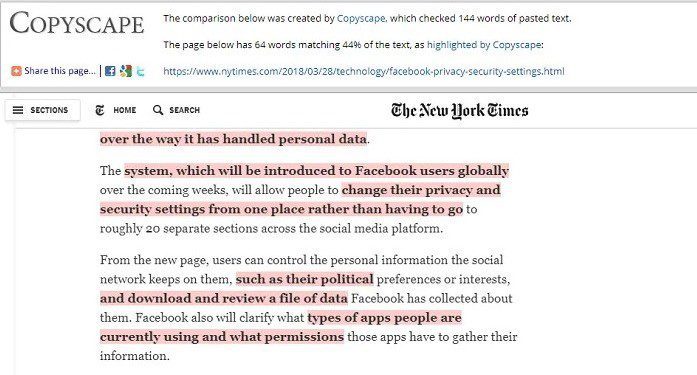 However, there are certain limitations with CopyScape that make me prefer Chegg. The biggest limitation is the pricing. CopyScape charges you on a per-word basis while Chegg lets you scan unlimited papers for less than 10 USD a month
You can also read  How to Get 100% Reliable Mathxl Answers Easily
Chegg Plagiarism Checker vs Grammarly
Grammarly is the most popular tool among writers it helps you to use perfect Grammar in your writings. A lot of people don't know that Grammarly also offers a Plagiarism Checker tool in the 'Premium' version. Grammarly Premium checks your writing against billions of sources on the web to find any copied sentences or phrases. On comparing the results, we have found that Chegg's Plag-detection abilities are better than Grammarly's.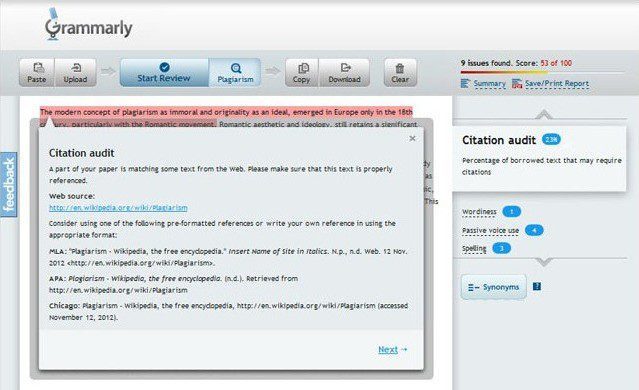 Another disadvantage is that Grammarly Premium is more expensive than Chegg. It starts from $29.95 per month. However, if you want to focus on developing a clearer writing style, you can invest in Grammarly Premium.
you can also learn How To Access Chegg Solutions For Free
Is Chegg Plagiarism Checker Tool Worth It?
Chegg is a growing educational platform that has a number of services to help both students and educators. The Plagiarism Checker tool of Chegg is a part of its "Writing Pack" that costs $9.95/month only. For this price, I'd suggest that the tool is worth it if you want to make your writing free of Plagiarism and Grammatical errors. It will also make it clear and more precise.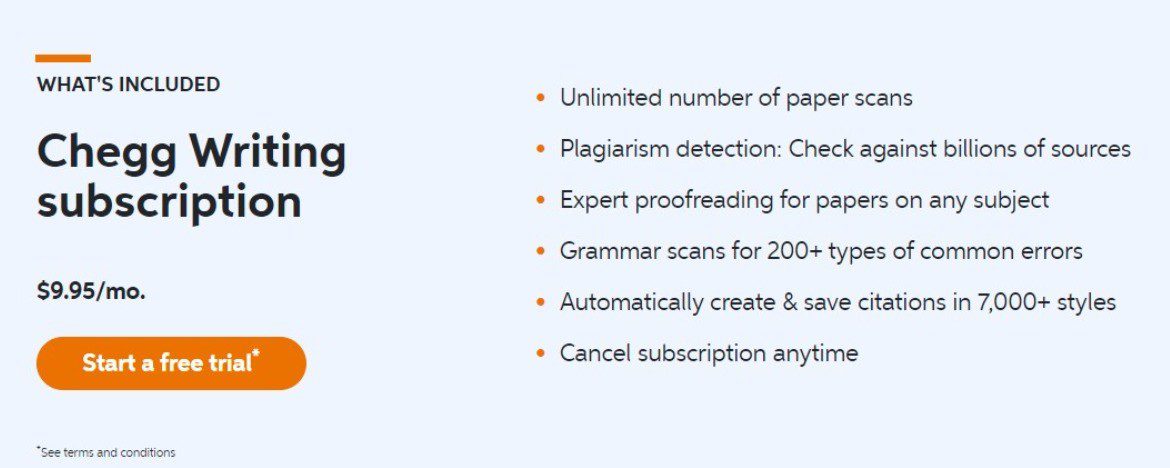 If you are looking to invest in a Plagiarism Checker tool for your college assignments, freelance projects, or even academic writing, you can go with the Chegg Writing Pack
Should you buy it?
We are almost at the end of this Chegg Plagiarism Checker Review, and you are still not sure? Don't worry. To decide if you should buy it, I'd recommend you take a look at the pros and cons of the Chegg Plagiarism Checker tool.
Pros:
Checks your paper against billions of sources to detect plagiarism.
Allows you to scan unlimited papers.
Provides expert proofreading on any subject.
Scans for over 200 types of Grammatical errors.
Less expensive than the others.
Cons:
Plagiarism Checker isn't available individually.
Sometimes misses unintentional plagiarism (1/1000).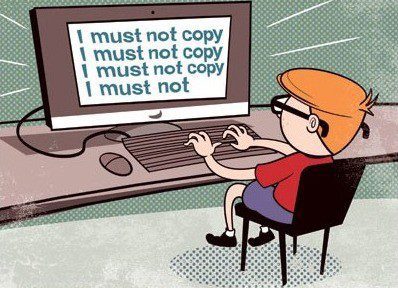 Now you can decide if you should buy it or not. If you'd ask me, I'd strongly recommend it to improve your writing.
You can also read  Get Top Notch Math Homework Help
Final Verdict
Chegg offers a Plagiarism Checker tool as part of its Writing Pack. The tool scans your papers for Plagiarism against billions of sources and helps you remove them. It can also cite the sources automatically. This was our brief review of Chegg Plagiarism Checker. Now you know the good and bad about it. It can definitely help you improve your writing.
That's all for this post. I hope this review helps you make up your mind.