Paraphrasing means to present another individual's ideas, opinions, or information in one's own words, while acknowledging the source of the content. Through this different and unique wording, you demonstrate your understanding and comprehension of the content in question and test your ability or skillset to accurately convey different forms of information.

A paraphrasing tool allows you to rewrite the original text, without altering its meaning or context. This unique rewriter eases your job and allows you to create new and revised versions for your assignments, websites, and academic undertakings with just one click. However, most of these tools just replace specific words and phrases with synonyms, which can sometimes compromise the source's overall meaning.
Looking For The Reliable Solutions?
Click Here To Get Customized Services


Are you researching some of the best paraphrasing service providers in town? Have you been cheated by different paraphrasing service providers specializing in low-quality content? Are you worried about your thesis deadline and unable to decide whether you should opt for a paraphrasing tool or human paraphrasers?

If yes, we have answers to all your questions. In this article, you will find what paraphrasing is, its significance, PROs and CONs, the best paraphrasing tools in town, and whether these handy tools can compete with human paraphrasers or not.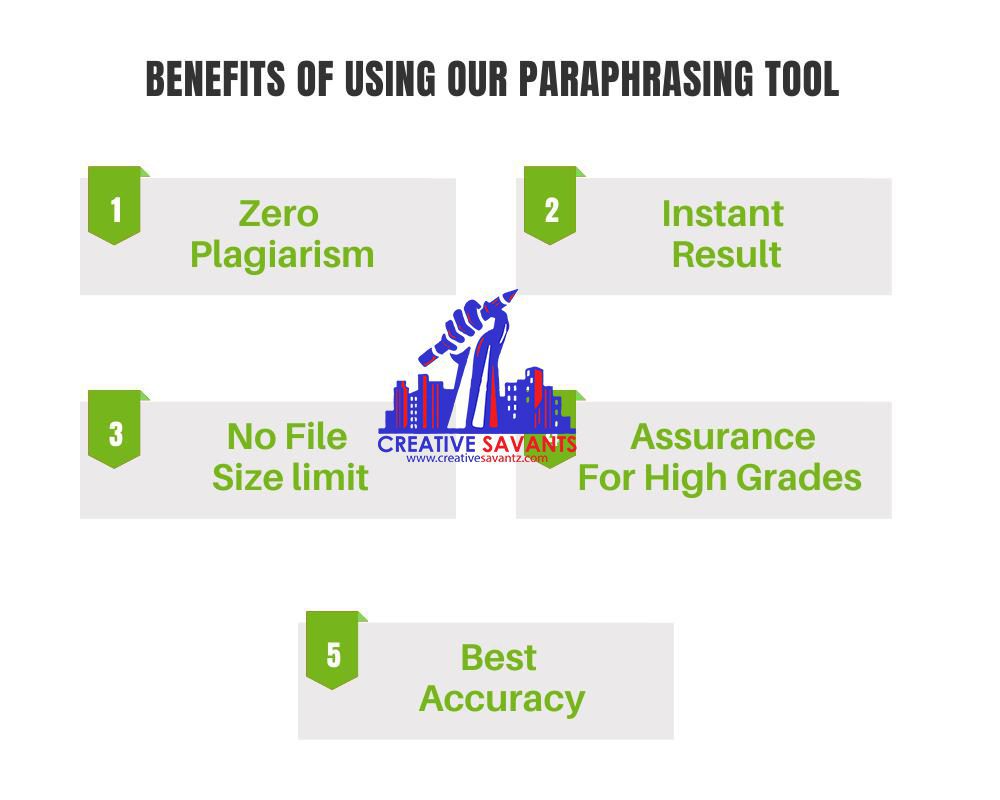 What is Paraphrasing
According to Cambridge Online Dictionary, paraphrasing means 'to state something written or spoken in different words, especially in a shorter and simpler form to make the meaning clearer.' It means that paraphrasing is the act of restating already written or spoken words in more straightforward and shorter forms so that the reader can understand the meaning or the context of the words without any ambiguity. Also, paraphrasing involves just changing or altering the wording, while preserving its originality and authenticity.

Paraphrasing is an alternative to quoting or summarizing. In academic writing, professors or instructors prefer you integrate content from different sources to back your argument or thesis statement rather than quoting the source directly. This practice helps them to evaluate whether you understood the ideas, theories, or opinions proposed by the writer or not, while managing to keep your own voice intact in the document.
Is quoting different from paraphrasing?
Quoting is an alternative to paraphrasing that involves using another author's exact words, opinions, and ideas by putting them inside quotation marks. The idea is to read and incorporate sentences or phrases that strengthen your argument, without altering or changing its wording.

Quoting is a common practice in academic writing. However, it is useful when you want to incorporate the exact wording of the source, for instance sentences like "this ground-breaking innovation" or "next-generation frontrunners that will reign the fields of science and technology", says something about the author's writing style, or might be difficult to paraphrase.

One should always prefer paraphrasing over quoting, as the former accentuates that you fully understand the meaning and context of the text and hold a voice of your own that is dominant over the voice of the source.
Is summarizing different from paraphrasing?
Summarizing is another alternative to paraphrasing that involves taking a long passage of text written by another author and cutting it short by emphasizing upon the main ideas only. This rewritten text represents the actual voice of the writer and highlights the art of reducing complex information into something shorter and more straightforward.
Looking For The Reliable Solutions?
Click Here To Get Customized Services


Summarizing is a good technique when you wish to present an overview of an article, a theory, or a research framework to validate your research or thesis statement.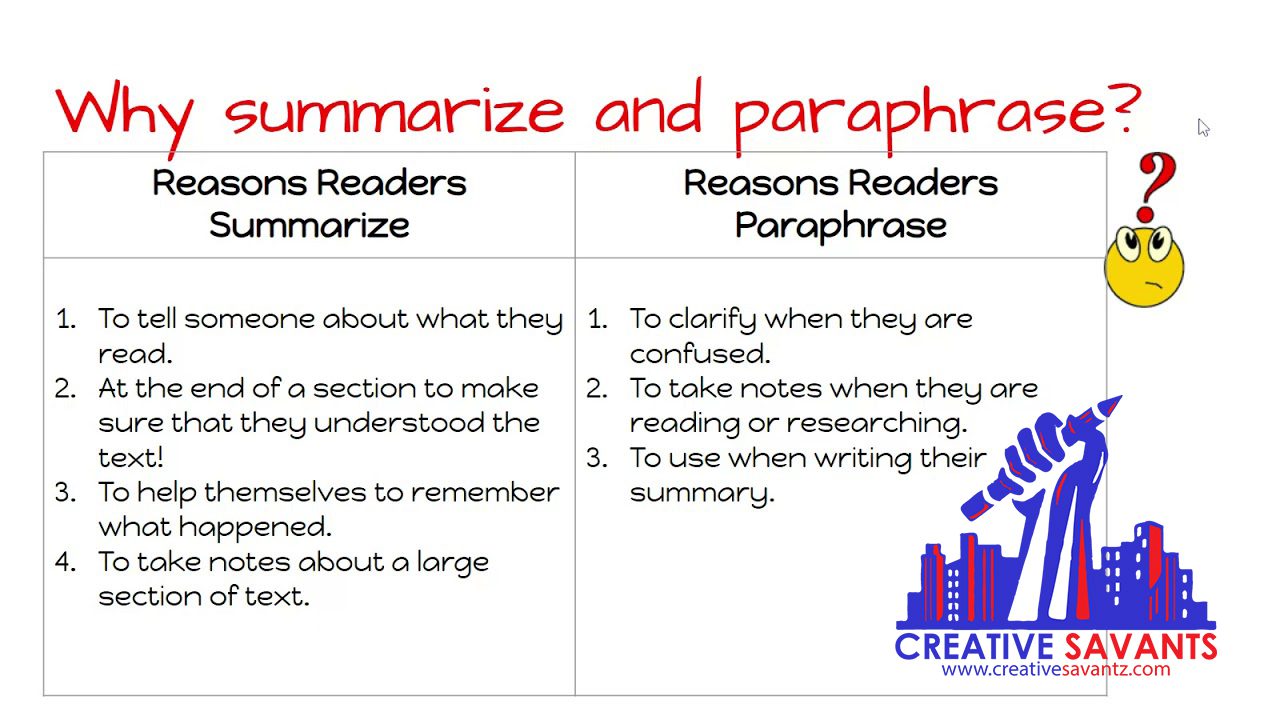 Why avoid plagiarism while paraphrasing?
Students often plagiarize while paraphrasing and are penalized for copying another individual's work. Paraphrasing does not mean to copy paste content from available sources on the internet, but it means understanding the actual meaning of the content and rewriting it in one's own voice or words to make it unique and different from the original source.

While paraphrasing, the student must avoid accidental plagiarism at all costs. Identical phrases or quotes must be altered or presented in quotation marks. Also, citing the source properly is pertinent to avoid plagiarism claims.
Read More: The Best Free Online Courses for University Students- March 2022

Popular paraphrasing tools in the market often contain similar or plagiarized text and hence are unreliable in maintaining academic integrity. These al-based tools can never compete with the human mind and often require manual editing before final submissions, which can eventually become tedious and time-consuming for non-native writers.

To cite your sources popularly, thoroughly research the different citing formats such as APA, Chicago, and MLA or use tools such as endnote to ensure that the sources are cited side by side with your own material to avoid plagiarism and copyright claims.
How to Paraphrase- A Step-by-step guide
Paraphrasing is a technical task, requiring thorough planning and execution. The following steps can help novices/beginners in paraphrasing:
First, read the original text carefully. Underline or highlight the main points so you can better understand the overall meaning and context.
You can also write down these main points on a piece of paper to memorize them.
Start writing your own version of the text without peeking at the source of the content. You can also take help from the notes you prepared in the previous step. However, avoid copying them.
Now compare your version with the original course and see whether you need to make any modifications or not. Remember, you must write academically, keeping in mind the narrative flow of the text.
Lastly, include the citation of the source.
Writer's tips
Do not use too complicated synonyms. Use synonyms that fit in the broader context.
Always start your first sentence differently than the original source. The key is to add your point of view and back it with the source, not the other way around.
Try and change the form of words and sentence structure.
Only include the information that is relevant to your study or article. Avoid unnecessary details. Retain keywords such as development, urbanization, or pollution, as altering them can change their meaning and context.
Try and present the information in a different order to avoid similarities.

Best paraphrasing tools in town
The purpose of the paraphrasing tool is to enable students, instructors, and professionals to rephrase content with clarity and accuracy. These tools work for people who lack a basic understanding of grammar, punctuation, and writing principles, allowing them to rewrite a bulk of data or information without hassle.

Some leading paraphrasing tools include:
QuillBot paraphrasing tool
Paraphrase Online
Duplichecker
CleverSpinner
Spin Rewriter
Wordtune
Parapharsing.io
WordAl
Article Rewriter Tool
Chimp Rewriter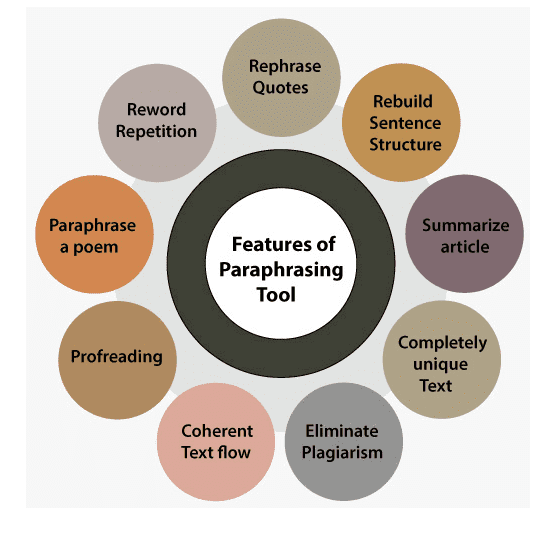 Pros and Cons of paraphrasing tools
Paraphrasing tools have both Pros and Cons, which must be kept in mind while selecting the one that suits your requirement:
Read More: The 8 Best Online Paraphrasing Tools You Need to Know About
PROS
They save you valuable time and effort. Writing needs both research and ideation, to back your argument and support it with facts. Both these steps are time-consuming. However, paraphrasing tools can save you from this mess.
They provide consistent results, only if you hook with the same tool rather than changing them for each assignment or task at hand.
Writing content manually is a tedious task, however, these handy tools reduce the human effort to create compelling and reader-friendly content.
They can help you save money, as a majority of these tools are free.
They are easily assessable and work on almost all devices and operating systems. All you need is a stable internet connection.
They can help you understand complicated topics, without being ambiguous and wordy.
Help professionals boost their SEO ranking, improve user experience and reduce website bouncing rates to generate revenues.
Help reduce plagiarism claims by uniquely presenting the original idea to evade Google's website ranking algorithm.
It helps you refine the narrative flow as well as your writing style. These tools are ideal for fixing grammatical and punctuation errors.

CONS
Some paraphrasing tools are not free and cost an arm and leg to rewrite content.
Not all tools are reliable, which means that rewritten work requires manual editing and proofreading.
The quality of the content is compromised. It might give off an unprofessional air to readers and can land you in legal trouble, if you don't cite your sources correctly.
Content usually contains plagiarism, as these tools use faulty automated processes to check similar text.
Significance of paraphrasing in academic writing
Paraphrasing is an integral part of academic writing, as it helps you to reiterate, condense and elucidate another author's work to strengthen your argument or analysis. While effective paraphrasing skills can help you ace your courses and thesis with flying colors, they can also expose you to accidental plagiarism.
Read More: Pros and Cons of Free Paraphrasing Tools – What are some of the Best Paraphrasing Tools in Town
However, with a bit of care, you can avoid getting into legal trouble, but for that you need to understand why paraphrasing is essential in academic writing.
It allows you to emphasize upon ideas rather than words
When paraphrasing text, you are not just copying and pasting the idea word to word, but you alter those words to better explain the main argument of the author. You focus on ideas and opinions, rather than on the words that were used by the author, making your content sound more natural and relatable to the readers.
It saves you from plagiarism
It is one of the most obvious reasons why paraphrasing is an integral part of academic writing. In this particular genre, you present a wide array of ideas to either support or refute your argument. Literature review backs your study and makes it acceptable to the scientific community that relies on facts and stats alone. Plagiarism is a legal offense; hence, paraphrasing saves you from copyright infringement cases. However, don't forget to cite the original author.
It helps you improve your writing
Paraphrasing is ideal if you wish to develop your writing skillset or enhance your diction. It helps you understand the original author's ideas and present them in your own voice, while avoiding common errors. Paraphrasing helps you produce compelling, original, and authentic writing pieces that can help you win the hearts of people around you.
Enhances your memory
Usually, people tend to forget even little details, as our brains only hold the capacity to remember memories and information that are new and relevant, discarding old information and memories. However, when we paraphrase, we note down points and ideas, while memorizing the original text. It activates our subconscious mind that stores these central ideas, so we can write them out and remember the things we need to add in the paraphrasing text.
Organizes human mind
Paraphrasing helps the human mind to write more clearly and organize information in sequential order, based on relevance or significance. It helps you to voice ideas that are most appropriate or can be appealing to the target audience.
It is the best confidence booster
Paraphrasing acts as a confidence booster so that you can put your thoughts logically and coherently. It gives you a sense of freedom and creative leverage to write whatever you feel like, in whatever way you want to.
Enhances communication skills
Paraphrasing can also make you an effective communicator. When paraphrasing the text, you develop your vocabulary and the right ways to use these words when needed. Hence you can notice a visible difference in your communication skills.
Paraphrase vs. plagiarism
Paraphrasing can be plagiarism, if you fail to cite your sources properly. Following are some major differences between the two terms:

Why paraphrasing service providers are better than paraphrasing tools
Paraphrasing tools not only save your valuable time and energy but also helps you express your ideas clearly and coherently. They seamlessly rewrite bulks of data in a few seconds, crafting and customizing compelling and engaging content with greater text readability.
Besides, these handy tools use an easy-to-understand interface and offer multiple features like plagiarism checker, grammar and punctuation checker, tone detector, citation generator, compare mode, and google and chrome extensions, just to name a few.
Read More: What is Labster and how to Get Labster Simulation Answer Keys Online

Paraphrasing tools are excellent for kick-starting your writing journey; however, they cannot compete with the human brain. These al-based tools are convenient but are not reliable when it comes to rewriting complex information. Mostly, they replace words with different synonyms, which can affect the narrative flow as well as the readability of content. Also, they are not efficient in detecting plagiarism and can land you in serious legal trouble.

Paraphrasing tools offer free versions; however, they have limited features and are prone to grammatical and punctuation errors. Exclusive or premium features are costly and are out of the reach of students who spend little to survive an entire month. Even after buying premium accounts, students are forced to manually edit the text crafted by paraphrasing tools to avoid errors.
Looking For The Reliable Solutions?
Click Here To Get Customized Services
You might come across several paraphrasing service providers on the google search engine. They might make tall promises as well, however, do not fall for this trap. These paraphrasing service providers cost a hefty amount, yet provide low-quality content. These companies often use plain and flowery language to describe their services. Always do your research and compare the available paraphrasing service providers. For instance: compare quantity with quality. Also, it is best to test through a free sample.

Are you struggling with your assignments and looking for paraphrasing service providers to manage your literature review for you? Is your thesis due in the coming month, and you are researching for some reliable paraphrasing service providers?
If yes, you need not worry because Creative Savants is here to help you out and understands your pain. We are not only one of the leading and most reliable paraphrasing service providers in the town but we guarantee 100 percent plagiarism free content, the one that can help you impress your professors, secure the long-awaited promotion at work and confidently compete with your peers without the fear of falling behind.
Creative Savants is unlike other paraphrasing service providers, as we do not provide stolen or low-quality content to our clientele. We have a well-versed team of experts who hold expertise in writing, editing, proofreading, and paraphrasing. We can provide you with concise, simple, and easier-to-understand content that is relatable to the audiences.

So, one can easily deduce that paraphrasing tools are easy and time-efficient; however, they cannot compete with the human mind who understands the intricacies of writing, grammar, spelling, and punctuation, and is full of beaming creative ideas.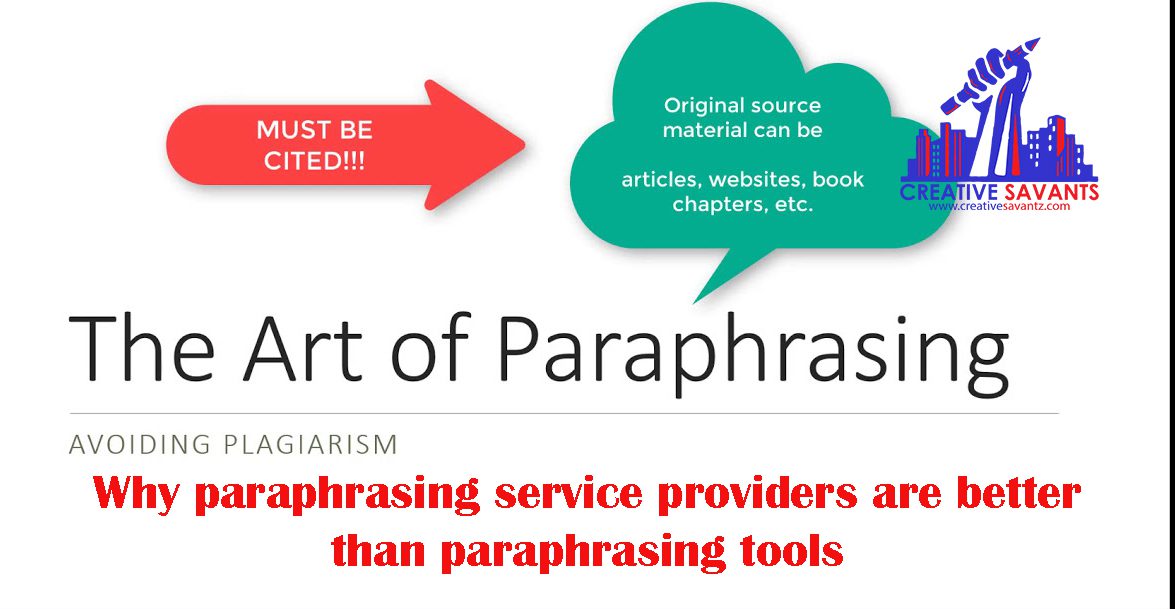 Read More: Acellus Academy: How to Get Acellus Answers Online
Why Creative Savants is better than other paraphrasing service providers
Paraphrasing is not an easy task, particularly for those who are not good writers or are non-speaking natives. To avoid plagiarism and make the content more engaging and readable, the best way out is to reach out to different paraphrasing service providers, who are there to assist you in your writing, edit and proofread content, remove punctuation, spelling and grammatical errors and produce SEO-friendly content that can rank well on the search engine. However, you might get confused in selecting the best out of many paraphrasing service providers around you.

But now, you need not to worry, as Creative Savants is there to help you out in your academic and professional undertakings.

Want to know why Creative Savants is better than all the other paraphrasing service providers? We offer:
Excellent paraphrasing services. Feel free to ask for a sample of our previous assignments, reports, and thesis dissertations and make your decision wisely.
Our experts are available 24/7 for assistance. You can visit our website or reach out on our social media channels. You can also check reviews of our previous customers.
You can ask for re-edits, if you are not satisfied with the quality of provided work. We do not turn our backs on our customers after receiving payments.
We provide a free Turnitin plagiarism report to ensure that your content is 100 percent free of similar or copied text.
We have years of experience in paraphrasing and rewriting. We have a team of highly qualified writers, editors, and proofreaders, who are native English speakers and have an impeccable command of the language.
Our experts are well-versed in academic writing, referencing, and formatting, and we guarantee professionally paraphrased documents that will meet the requirements set forth by your institution or professor.
Our services are pocket-friendly. We understand our clientele's budget constraints and deliver high-quality services at affordable rates.
Creative Savants also offer assignment writing, copywriting, and professional writing services. Our experts can help you ace your online educational portals such as Mathxl, Mindtap Cengage, Edgenuity, Blackboard, Aleks, James Madison, Mystatslab, Coursehero, and Chegg with flying colors by simply taking your login id and password.
Conclusion
Paraphrasing tools cannot compete with the human mind and its complexity. These tools are effective if you are looking for shortcuts; however, you can never rely on them entirely. Human proofreaders and paraphrasers are well-versed in writing, editing, and pinpointing grammatical, punctuation, and spelling errors. They have a keen eye for detail, are full of promising ideas, can produce plagiarism-free content, and hold the expertise to develop unique sentences that are simple, concise, and flowy.
Looking For The Reliable Solutions?
Click Here To Get Customized Services


If you are looking for pocket-friendly and reliable paraphrasing service providers, look no further and reach out to Creative Savants. Let our experts handle your assignments, reports, thesis, and other professional documents, with 100 percent accuracy and zero plagiarism.