Turnitin is recognized globally as one of the best plagiarism checking tools that allow learners to improvise their writing style, learn the art of citation, and reference and avoid unnecessary plagiarism in their academic and professional writings. The Turnitin similarity report is one of the unique features of the Turnitin software that all learners and educators in understanding and acing the art of referencing and citation as well as reducing the plagiarism count in the personal and professional writings. 

Are you facing issues in interpreting your Turnitin similarity scores? Has your teacher asked you to reduce the plagiarism count in one of your assignments? Have you been watching tutorials on YouTube to better understand the Turnitin similarity report and its unique features? If the answer to any of these questions is yes, look no further, as this article encompasses all the needed information about the Turnitin similarity report and how to reduce similarity on Turnitin.
Read more: Download Free Plagiarism Checking  Report
What is Turnitin Similarity Report?
The Turnitin similarity report pinpoints your submitted work's similarities or matching text against other writing pieces such as assignments, articles, research reports, and thesis dissertations. The highlighted areas in the information are evaluated by the instructors or professors, who then determine whether the similarity score exceeds the university's plagiarism acceptable thresholds. Remember that the Turnitin similarity report does not determine the amount of plagiarism in your submitted work but identifies the sources that the potential author or writer has used in the academic effort.
What is the Similarity score?
The similarity score in the Turnitin originality report reflects the actual percentage of similar or matching text in your submitted work. All the similar paragraphs or sentences found on the internet or in Turnitin's databases are highlighted in different colors. This similarity score pinpoints the problematic areas in a learner's writing, which can be improved with concentrated efforts.
Read more: Turnitin Plagiarism Software
HAVE PLAGIARISM IN YOUR DOCUMENT? CLICK HERE LET ME FIX IT FOR YOU!!


Submit Your File For Turnitin Plagiarism Checking!
Service Status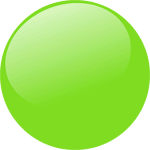 Online! ([wpforms_entry_total form_id="11130″] Questions in the Queue) Refresh
Please refresh the page to check the current Service Status & number of documents in the queue right now. Documents uploded here are not added to our database and will never be shared.
Similarity within text does not indicate that your work is plagiarized. Also, not all forms of plagiarism are unacceptable. For instance: direct quotes, citations or bibliographic material can be omitted from the similarity score to reduce overall similarity score percentage by the instructor.


Turnitin does not check for plagiarism in an article assignment, but compares the submitted work against its database to find chunks of data similar to other sources or cited works. Also, similarity within text does not mean that your work is copied or plagiarized. Turnitin's database includes billions of articles, research reports, assignments, journals, publications and web pages. All submitted work is checked against this database. 
Read more: How to Create or Edit Turnitin Enabled Assigments
What is an acceptable threshold for a similarity score?
The acceptable Turnitin plagiarism threshold is usually below 25 percent. A similarity score lower than this percentage reflects that your work is original and well-cited. However, this is not a fixed acceptable threshold for similarity score. Your educational institute or professor allows you a set number for your class assignments as per their academic policies.


A high similarity score in the Turnitin similarity report indicates that some significant parts of your work are plagiarized from other academic sources. In contrast, a zero similarity score represents that your work is 100 percent original and that all the source-based evidence are appropriately cited.
What are similarity score ranges?
The Turnitin similarity score range summarizes the matching text found in your submitted assignment or report. When the Turnitin similarity report is ready, the similarity score percentage becomes visible. However, when the similarity reports end, they appear with a greyed-out icon.

Resubmitted assignments can sometimes take extra time to generate a new Turnitin similarity report. This delay is automatic and may take 24 hours to generate a new Turnitin originality report to avoid the matching text that was found in the previous draft.

Also, each score range is represented by a color. Blue represents no matching text, green one word to 24 percent matching text, orange 25 to 49 percent matching text and red 75 to 100 percent matching text in the submitted file.
What can you do with the information in the Turnitin similarity report?
The information in the Turnitin similarity report can be used to improve your writing craft as well as to work on the areas that need improvement. After getting the similarity score, you can make changes in your next draft to reduce the similarity count to the acceptable threshold set forth by your professor or college.
How to access the Turnitin similarity report?
To access the Turnitin similarity report:
Log in to your official Turnitin account and click the 'all classes tab' that is placed at the top of each page
After that, select the name of the class to view the class portfolio
You then have to locate the assignment box, where you submitted your work. Just below the similarity column, you will find the matching text percentage. This numerical indicator will pinpoint the amount of matching text found in your submitted work with detailed information about the sources
Read more: Plagiarism Checking Report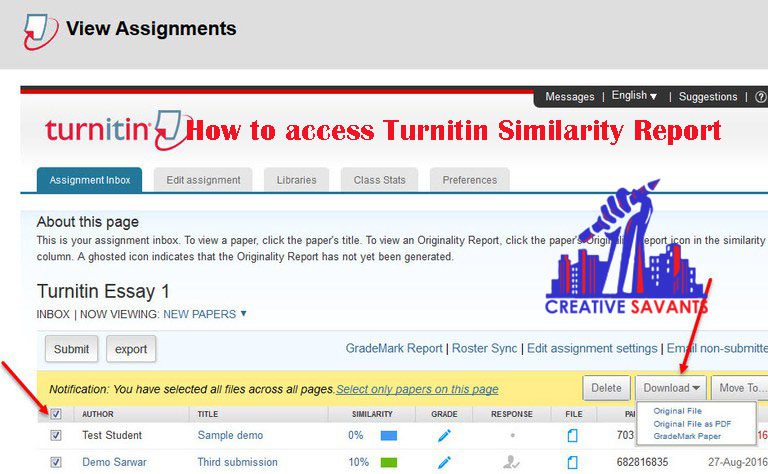 How to download the Turnitin similarity report?
The Turnitin similarity report is downloaded in PDF form, which can be printed if needed. The download button is placed on the right-hand side and includes the current view, digital receipt and originally submitted file option. You can also tailor the contents in the download tab by making changes in the visible layers, as per your preferences. Turnitin similarity reports can be downloaded individually only, as there is no option to download a bulk of similarity reports.
After clicking the download similarity report tab, click the arrow download icon in the feedback studio toolbar placed on the right corner of the report

Select the current view option from the dialog box. This PDF file will also include some additional information about the submission id, word count and date of submission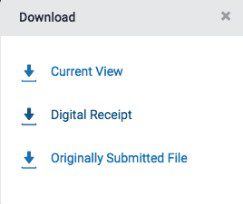 Larger files can take some time. Once the file is processed, the PDF file downloads automatically to your computer or laptop
The last page of the Turnitin similarity reports includes a list of plagiarized sources in your paper, each highlighted with a different color depending on the matching text percentage
HAVE PLAGIARISM IN YOUR DOCUMENT? CLICK HERE LET ME FIX IT FOR YOU!!
How to reduce Turnitin similarity on Turnitin
To lower your Turnitin similarity count:
Balance the information used from other sources with your own work
Paraphrase or summarize ideas from other sources and explain them well in your own writing style to avoid plagiarism
Cite all evidence-based data as per the appropriate citation style (APA, MLA or Harvard)
Instead of referring to an entire paragraph from your source, use the essential bits and pieces and mention them as direct quotes
For each quote, you reference in your writing, provide a detailed explanation or analysis of its relevance for your research study


 
Features of Turnitin similarity report
Match Overview
The math overview feature provides a clear summary of matching sources in your assignments or personal writings with the similarity score. All the matches in the text are highlighted in a distinctive color.

All sources tab
The all sources tab is placed just below the match overview tab in the feedback studio toolbar. This list includes all the references similar to your submitted work with their type such as whether the source is a publication, an article on the internet, or student paper, along with their digital location or URL.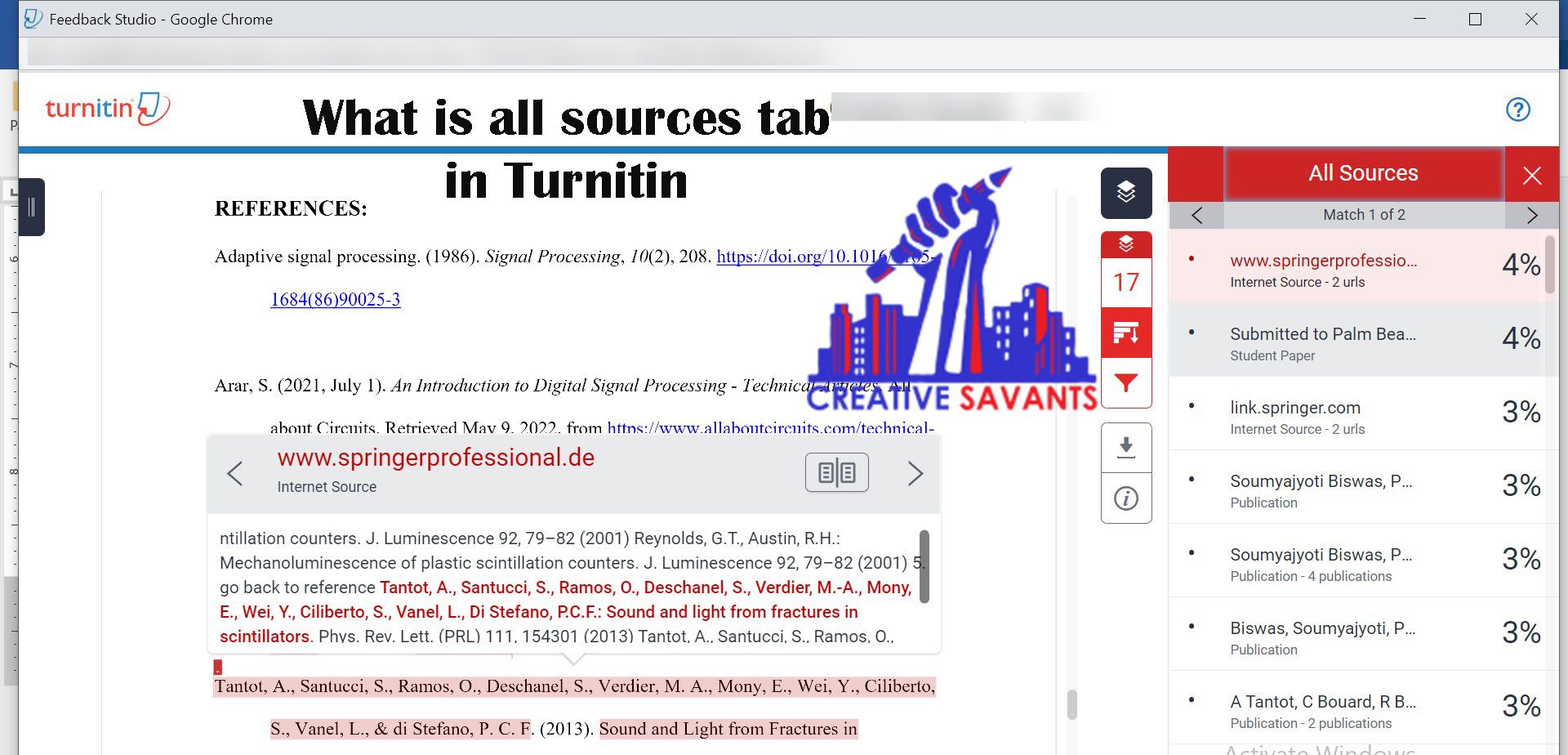 Filter and Settings tab
The filter and settings tab allow learners and educators to exclude citations, quotes, and bibliographic information from the overall similarity score count. You can check the box in front of each filter to set them up. However, if your quotes or bibliographic information are still being highlighted, you can notify your professor to check the filters and settings for assignment submission.

Info tab
The info tab includes all the relevant information related to your student ID, class name, class ID, submission ID, file name and extension, word count and the total number of pages.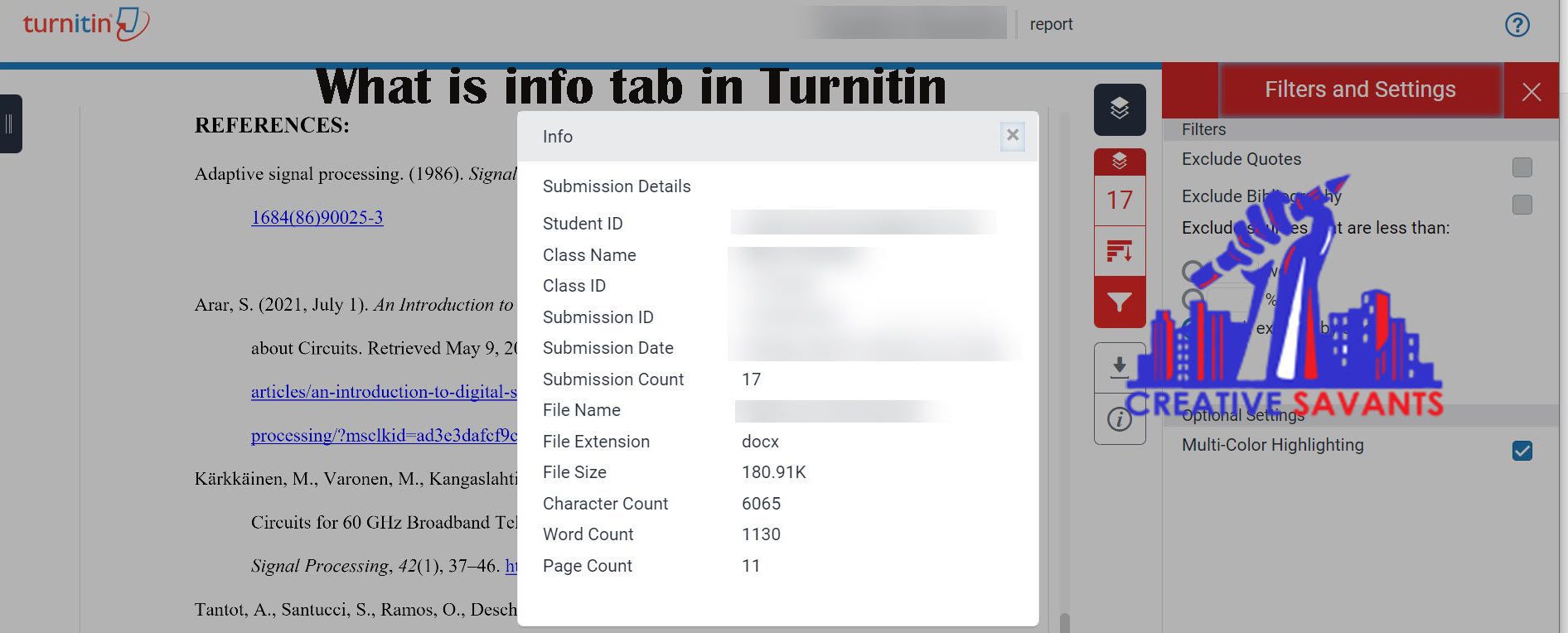 Conclusion
The Turnitin similarity report is a handy tool to determine matching text in your submitted work, cite the used sources and give due credit to other authors, writers, researchers, and academicians.

Creative Savants offers customer-focused content writing services fashioned by an exceptional and competent team of writers with the highest quality and standards at pocket-friendly rates. We provide a range of services, including academic writing, website content development, technical report writing, thesis dissertation writing, professional business writing and copywriting services.

We also offer free Turnitin originality report services for our customers and visitors. Feel free to reach out to our email address or phone number, as our expert writers are available 24/7 to assist you in your academic undertakings so you can soar high without the fear of failure and falling.
Read more: Turnitin's Privacy policy  for Students, Teachers and Researchers