International scholarships are a great way to develop your confidence, learn about different cultures and perspectives and experience different styles of teaching pedagogies. Studying abroad can be a life-changing experience for learners, as it can help them enhance their language skills, broaden their network and become more competitive in workplace settings.

Whether you are a meticulous learner who is looking for a bright future abroad or a parent who is overburdened by the educational expenses of your child, never underestimate the value of international scholarships, as they are your ticket to studying in some of the leading higher education institutes of the world, without expending even a penny.

Do you aspire to study medicine or engineering at Harvard, Stanford, or Oxford but lack the financial means? Do you wish to pursue your academic goals confidently in a vibrant and diverse cultural milieu and stand out from your contemporaries? If the answer to any one of these questions is yes, gear yourself for this informative piece that holds all the information pertaining to scholarships, their eligibility criteria, qualifications and other entry requirements and a list of top ten international scholarships to look for in 2022.
What is a scholarship?
A scholarship is a form of financial support or assistance usually awarded on the basis of merit or other criteria set forth by the scholarship awarding institution, body, or university. These scholarships lend support to international students to defray their educational expenses such as tuition fees, accommodation, books, and stationery.

International scholarships are awarded based on academic accomplishments, financial needs, community involvement or voluntary activities, employment experience, extracurricular activities, and different areas of study. These scholarships are usually awarded by host countries, government agencies, funding organizations, charities, and colleges and universities.
Difference between international scholarships and grants
Both scholarships and grants are quite different; however, both facilitate international students to pursue their academic dreams abroad. Scholarships are usually awarded to bright, meticulous learners based on their educational accomplishments, participation in extracurricular activities, and other creative capacities.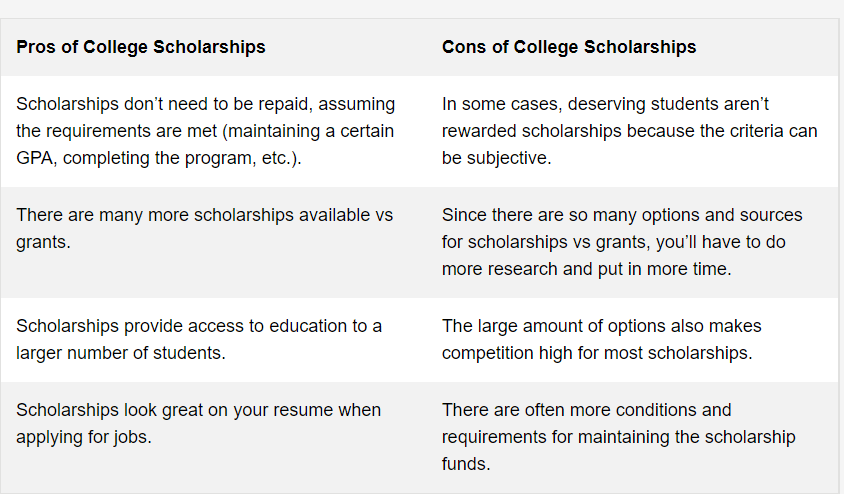 On the other hand, grants are usually need-based and are given to students who lack the means to bear their educational expenses. International students are not obligated to return these financial favors.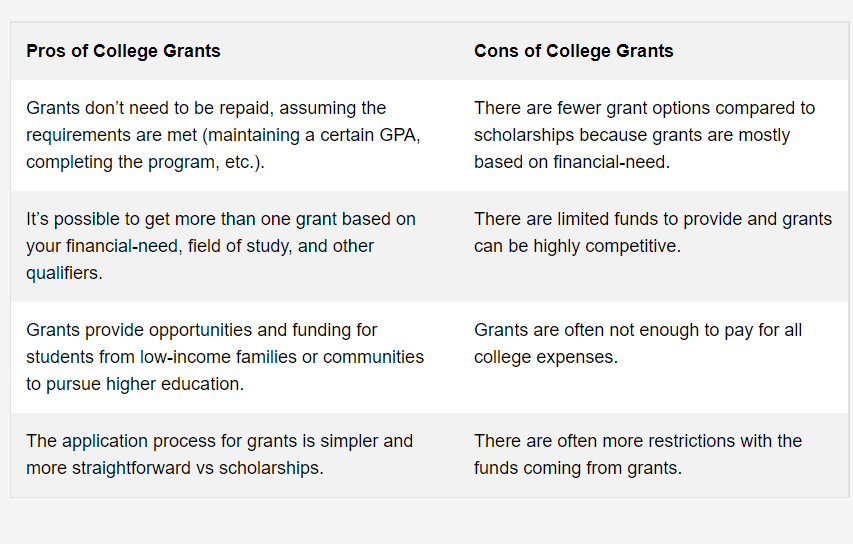 What are student loans?
Student loans are financial remunerations designed to help students pay their tuition fees, bear their hostel or living expenses, and buy books and other education-related supplies. Student loans are not free like scholarships and grants and need to be repaid with a certain amount of interest. The requirements to qualify for these loans are less stringent, as them aim to provide equitable access to education to a broader and diverse range of people from different socio-economic backgrounds.
Types of international scholarships
Location-specific international scholarships/grants: These scholarships/grants are awarded to students from a specific country or city. For instance, Gates Millennium Scholars Program or CCAPW Scholarships. The government of your home country can assist you in securing such prospects. Different countries sign student exchange or international scholarship programs to foster international relations with other countries. It allows its students to study in some of the best universities globally and return to their home country to serve it.

Subject-specific international scholarships/grants: These scholarships/grants are offered to students who wish to pursue a specific field or major in a certain major from abroad. These can include computer sciences, STEM, arts, or foreign languages.

Student-specific international scholarships/grants: Some scholarships/grants are awarded based on gender, religious orientation, ethnicity, and disabilities. For instance: Benjamin A. Gilman International Scholarship allows learner with limited financial means to either study or intern abroad to develop critical academic and professional skills.

University-specific international scholarships/grants: Several international universities offer special scholarships and grants to meticulous students based on their academic accomplishments. For instance: The Clark University Global Scholars Program (USA) or the International Leader of Tomorrow Award at the University of British Columbia.

Organization-specific international scholarships/grants: Several institutions/organizations are working in the field that offers international students the chance to study abroad without worrying about their educational expenditures. These non-profit organizations offer scholarship prospects to students that fit their eligibility criteria. For instance: ADB Japan Scholarship Program or Wells Mountain Foundation Scholarships for Developing Countries.

Government-funded international scholarships/grants: Several government-funded scholarships and grants are available for students who wish to study or work abroad. For instance: Chevening Scholarships or Fulbright Program. These international scholarships aim to attract a talented pool of college and university students from other developed or developing countries, so they can study in some of the leading universities of the world and later work in a multicultural setting to polish their skillset.
Your to-do list to secure an international scholarship
There is a common misconception that education abroad can be unaffordable for students from low socio-economic backgrounds. However, this is not the case. Thousands of international students are studying in their dream countries with the help of international scholarships and grants. But the problem is that not many students are aware of these golden opportunities and need guidance to secure these competitive international scholarships.
Reach out to students who are studying abroad
The first step to securing an international scholarship is to reach out to people who have international exposure. Contact your university's international outreach department or financial aid office. Visit these offices in person, rather than emailing or calling.

You can also seek help from your academic advisors and professors, as they are in a much better position to guide you and are well aware of your academic accomplishments, skillsets and aptitudes. Show your professors that you are determined to secure an international scholarship but lack the means to afford quality education abroad.

The hardest part of securing an international scholarship is finding the right opportunity at the right time. If you wish to secure an international scholarship without wasting your time in the tedious application processes, your professors and university support offices are the right people to engage.
Research is your true friend
Thousands of international scholarships are offered to college and university students every year, but not all of them fit your portfolio. Research is your true friend here, as it can help you compile a list of international scholarships that you can explore without scanning every opportunity that comes your way. Several online resources are available that can help you with the eligibility and documentation requirements to prepare in advance.
Contact the scholarship provider
Just to know all the nitty-gritty details of a specific international scholarship that you wish to apply for, the best way out is to contact the funder directly so they can guide you accordingly. These funders not only provide you with reliable and authentic information but also assist you in completing the application process. You can also show the funding body how interested you are in securing their prospect, further increasing your chances of winning the grant.
Work on your resume
After compiling a list of international scholarships, start working on your resume, as it is an integral part of the application process. This document will allow the scholarship committee to get insight into your university life, recent campus life experiences, and work experience. Be concise instead of cramming all the information in one document.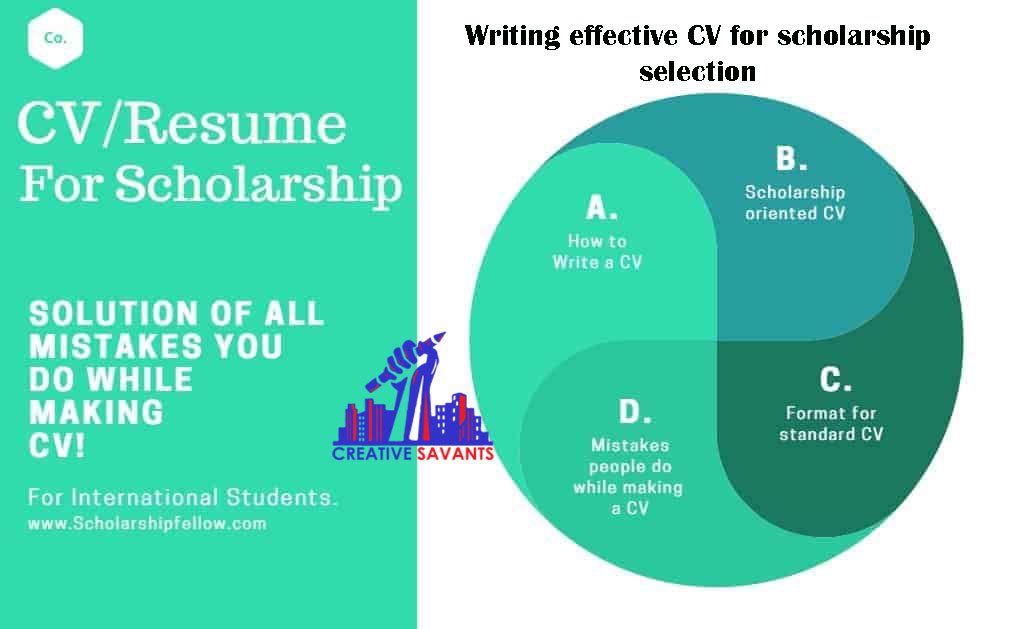 Also, make a solid argument in the cover letter and talk about why this scholarship is important for you. However, you can also send a generic cover letter, sharing your academic accomplishments and student life experiences.

Before starting your resume, make sure that the university or program you are applying to has mentioned any specific resume requirements on their website or not.
References are important
Over here, we are not referring to your bibliography, but personal references that are an integral part of your scholarship application. Typically, all international scholarships require candidates to secure recommendation letters from their professors, colleagues, or employers, highlighting their skills, aptitude, accomplishments, and overall personality traits.

It is important to approach professors with whom you share a cordial rapport, as it will increase your chances of securing the scholarship. Professors who know you well, will go out of their way to help you and won't shy away, if any scholarship committee member decides to reach out to double-check the letter's authenticity.
Keep a check on the application dates
Application dates are important, and hence mark your calendars in advance to complete the application requirements before time. Suppose you are applying for multiple international scholarships or grants. In that case, you can use a reminder app on your mobile phone or manually mark them on your calendars to keep track of the application deadlines and documentation requirements. The best advice would be to prepare all required documents for each application at least a week before the deadline to avoid last-minute glitches.
GET A FREE QUOTE NOW!!
Work hard on your personal essay
Almost all international scholarships require a solid proof to consider you are a worthy candidate for the intended offer. This evidence is your personal essay or statement that gives vivid flashbacks of your college and university life, your remarkable academic or extracurricular achievements that set you apart from your peers and friends and the motivation behind applying for this particular scholarship program.

Remember, this is your golden chance to shine and impress the scholarship committee. Take your time in writing your personal statement. Before sending to the scholarship committee, you can also share it with your professors and friends and get their valuable feedback.

Scholarships funders would love to know how much you appreciate this given opportunity and in what ways it will change your life for good. Explain why you deserve this scholarship or grant and what it means to you.
Top ten international scholarships for students
Fulbright Foreign Student Program (USA)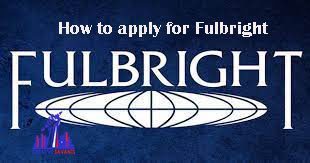 The US government offers the Fulbright Foreign Student Program to enable talented young students, artists, and professionals from different parts of the world to pursue their education or undertake research projects in some of the leading higher education institutes. This prestigious scholarship program operates in over 160 countries around the globe. 
The Fulbright Foreign Student Program is managed by the bi-national Fulbright Commissions or US embassies operating in the authorized countries. Each year, over 4000 international students are given the golden opportunity to pursue their academic dreams in the US, one of the most popular higher education destinations, globally. 
One of the major goals of this international scholarship is to promote healthy and cordial ties between the people of America and the people of other countries. The applicants are expected to share their cultural experiences in the US with peers and community groups in their home country. Fulbright scholars are also bound to return to their home country after completing their degree programs. They are mandated to serve a residency period (a minimum of two or more years) in their home country. 
Study level
Masters, PhD
Fields of study
Fulbright encourages applications from all academic disciplines/areas
Scholarship deadline
Deadlines vary for each country, but are usually open between February to October, annually. 
Scholarship eligibility criteria
The eligibility requirements and selection procedures vary for each country or region and can be checked at the official website. You can also check out the website of your specific country to get more information about the application deadlines, documentation guidelines, and other eligibility requirements. 
Scholarship benefits
The Fulbright scholar is offered a range of scholarship benefits, including:
Tuition fees
Accommodation
Airfare
Health insurance
Living stipend
Textbooks
Visa fees
Computer
Settling allowance
Scholarship selection process
Usually, the selection process for each country is divided into four stages:
In the first stage, all the applications are screened to check if they meet the minimum qualifications or not. All the incomplete applications are rejected.
In the second stage, all the completed applications are evaluated based on the established criteria.
In the third stage, in-person or virtual interviews are conducted (usually between July and September). The interview panel includes representatives from the home country and the US.
In the fourth stage, all the selected candidates are notified and emailed their official acceptance letters. 
 
Scholarship Link
Chevening scholarship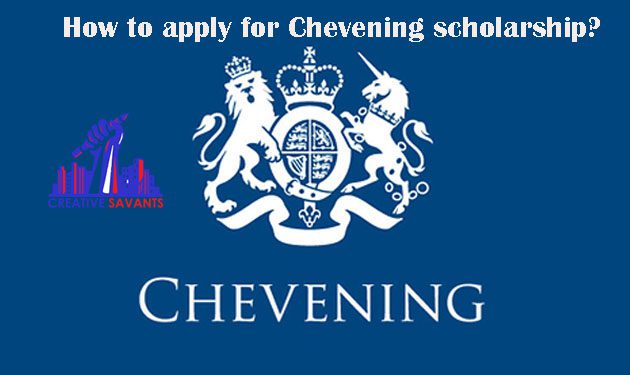 Chevening scholarship is one of the most prestigious international scholarships and is funded by the Foreign and Commonwealth Office (FCO) and its partner organizations. This scholarship is offered to outstanding academic and research scholars, with proven leadership potential to study at some of the UK's top-ranked universities for a master's degree program.
This international scholarship allows them to demonstrate their strong academic backgrounds and leadership prowess and study in a vibrant and multicultural setting to enhance their educational, professional, and cultural understandings. 
Almost 1500 scholarships are offered to meticulous international students every year, demonstrating the commitment of these funding bodies to facilitate the global frontrunners of tomorrow. 
If you already have a master's degree, you can still apply for a Chevening Award for your second master's degree in any eligible UK university. However, you will have to back your argument with solid reasons as well as explain why this degree is important to fulfill your professional endeavors. You must explain how this degree will positively impact your career choices in your home country.
Study level
Masters
Fields of study
Full-time postgraduate courses are offered in any subject. You can use the course finder option to get a list of offered courses at each university across the UK. 
Scholarship deadline
The applications are currently closed. However, they will open in September/October this year. You can use the Chevening online application system and apply through your country's Chevening page. Remember, it is important to visit the Chevening page of your country to get more details about this international scholarship program and upcoming deadlines. 
Scholarship eligibility criteria
Must be a citizen of an eligible country or territory
Must return to their home country after completion of the degree program for a minimum of two years
Have completed their undergraduate degree program and are eligible to gain admission in a postgraduate degree program at a UK university. This undergraduate degree must be equivalent to an upper second-class 2:1 honors degree in the UK, but can be different depending on your university choice or intended course
Must have at least two years of professional work experience (equivalent to 2800 hours). This work experience can include full-time, half-time, paid or unpaid internships and voluntary work experience
Must apply to at least three different UK university courses and have at least one unconditional offer letter from any one of these choices not later than July 14, 2022
Scholarship benefits
Chevening scholars are offered the following benefits:
Tuition fees/program fees
Monthly allowance/stipend
Economy class return flights to the UK
Volunteering opportunities
Access to networking events, workshops, talks and internships
Scholarship selection process
To apply for this international scholarship program, you will select your country from the drop-down on the official Chevening website.
After completing the application process, the scholarship committee will evaluate your credentials against the eligibility criteria. 
An independent reading committee will then access successful applications, and shortlist a long list of prospective applicants. Their scores are then forwarded to the home country's high commission or British embassy. 
Before the interview date, these candidates are also requested to submit two reference forms and education documents. 
After the high commission or British embassy reviews applications, they produce a list of candidates for the interview stage. In this interview, the applicant is asked questions about their academic and professional goals and how Chevening will help them achieve these. The applicant is also asked questions related to their course choice.
After the interview, the panel scores these answers against the global Chevening criteria. The final results are usually announced in the early half of June or onwards.
The successful applicants have to receive and submit at least one unconditional UK university offer letter before the stipulated deadline. 
Scholarship Link
Australia Awards Scholarship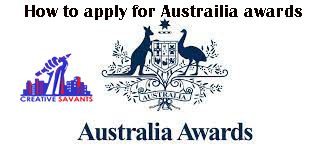 Australia Awards Scholarship, previously known as Australian Development Scholarships (ADS), allows international scholars from developing countries to pursue undergraduate or postgraduate studies at participating Australian universities and Technical and Further Education (TAFE) institutions. These awards are managed by the Department of Foreign Affairs Trade and aim to meet their partner countries' development needs, in line with the regional and bilateral agreements. 
Australia Awards Scholarships provide study and research prospects to talented international students from partner countries so they can drive change and contribute to the overall development of their home country. 
Fields of study
Undergraduate and Postgraduate degree programs in disciplines listed on the participating country's profile. These awards are not available for training in nuclear technology, flying aircraft and military training. 
Scholarship deadline
The scholarship opens in February and closes in April, annually. You can check this link for the opening and closing dates for the study commencing in 2023. 
Scholarship eligibility criteria
The eligibility criteria for Australia Awards Scholarship are as follows:
Must be a minimum of 18 years of age 
Must be a citizen of the participating country and should be residing in and applying for the scholarship from their country of citizenship
Must not be a citizen of Australia, or hold permanent residency or planning to apply for a residence visa to live in Australia permanently
Must not be married, engaged, or a de facto of a person who holds or is eligible to hold an Australian or New Zealand citizenship or permanent residency, at any time during the application or selection phases
Should not be a serving military personnel
Not have previously received a long-term Australia Award unless they have resided outside Australia for twice the length of the total time they were in Australia (for instance, if an applicant has been on an Australia Awards Scholarship in Australia for four years, the applicant will not be eligible for another award until they have resided outside Australia for eight years)
No criminal conviction in the home country
Meet the specific criteria of the award established by the program area or government of the applicant's country of citizenship
Meet the admission requirements of the institution at which the award is to be undertaken
Meet the requirements of the Department of Home Affairs to hold a Student Visa
Scholarship benefits
The awardee will receive the following benefits:
Tuition fee
Return air ticket
Establishment allowance (one-time payment to meet accommodation expenses and buy textbooks and other relevant study materials)
Contribution to Living Expenses (CLE) (fortnightly payment to meet basic living expenses and is paid at a rate determined by the department)
Introductory Academic Program (IAP) (a mandatory program before commencement of academic studies in Australia that encompasses information about living and studying in the country)
Overseas Student Health Cover (OSHC) (cover scholar's basic medical costs)
Pre-course English (PCE) fees (available to students for in-country or in Australia training)
Fieldwork support (return economy class airfare to complete coursework)
Supplementary academic support
Scholarship application and selection process
Before starting your application, check your country's opening and closing dates. You can also check eligibility criteria, priority areas and how to apply information on the official page of your home country.
If you intend to apply, do read the Australia Awards Scholarships Policy Handbook, as it contains all the information pertaining to general eligibility requirements, the selection process and required documentation for each participating country
You are then required to register yourself on the Online Australia Scholarships Information System. During the process, you will be required to answer certain questions that determine your eligibility for this international scholarship. You will then be given a unique registration number, username, and password for your account
You can set up a draft application and update it over time. You can add supporting documentation until the designated closing date of your country of citizenship. After applying, you cannot change the information.
You can also submit your application through the mail. Please check your country's profile for contact details to obtain a hardcopy application form and other required templates.
It is necessary to submit the completed hardcopies and supporting documentation before the designated deadline.
All the applications for this international scholarship are considered on merit. All the shortlisted candidates are invited for an interview with the selection committee. This interview can include other group activities and access the applicant's academic competence, professional accomplishments, and potential to work for resolving the development challenges in their home country. 
You can access additional selection requirements for your home country at this link 
Scholarship Link
Turkiye Burslari Scholarship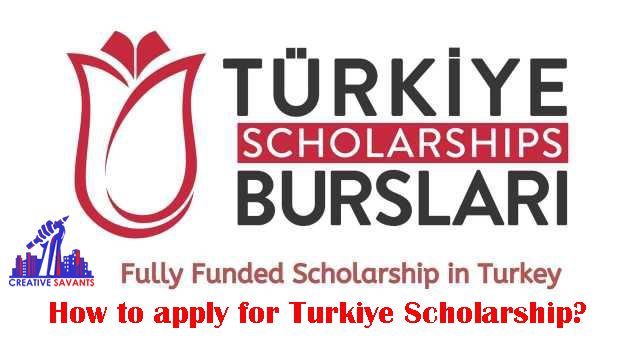 Turkiye Burslari Scholarship is a prestigious international scholarship offered by the government of Turkey to international scholars and researchers to pursue their higher education in one of the most vibrant countries in the world. This international scholarship aims to foster a mutual understanding between the applicants of the country of citizenship and the Turkish government by contributing to the global knowledge economy and producing meticulous learners who can offer viable solutions to different development challenges in their own country.  
Turkiye Burslari Scholarship also aims to develop channels of cooperation between Turkey and other countries to collaborate for regional and global developments in academia, literature, technology, architecture, arts, and much more. This international scholarship offers degree programs in both Turkish and English languages. 
Fields of study
Undergraduate, graduate, and doctoral degree programs in all the participating universities in Turkey. 
Scholarship deadline
Turkiye scholarships usually open around February, annually. Applications for this year are currently close. However, you can apply for this scholarship in 2023. 
Scholarship eligibility criteria
Citizens of all countries are eligible to apply for this international scholarship.
To apply for the undergraduate program, the minimum academic achievement for the applicant is 70 percent or above, for postgraduate 75 percent or above, and for health science programs 90 percent or above
For an undergraduate program, the minimum age criteria for the applicant is under the age of 21, for Master's program under the age of 30 years, for PhD program under the age of 35 years and for research scholarship under the age of 45
Applicants who will be graduating at the end of the current academic year or before August 2022 are eligible to apply for this international scholarship.
Scholarship benefits
Turkiye scholars secure the following benefits:
Full tuition fee
Visa processing charges
Accommodation
Health insurance
Monthly stipend (Undergrads: 1000 TL per month, Postgrads: 1400 TL per month and doctoral candidates: 1800 TL per month)
Health insurance
Return ticket
One-year Turkish language course
Scholarship application/selection process
The applications are submitted electronically on the Turkiye portal, which opens one month before the deadline.
After making an account, the applicant must fill in all the required information in the portal. Some sections in the portal include personal information, family information, education details, employment details, extracurricular activities, social activities, and language skilss.
After filling out the form, the applicant is required to submit all the required documents, including educational transcripts, curriculum vitae with a cover letter, employment letter, recommendation letters, letter of intent, research plan, certificates of academic or social achievements and TOEFL/IELTS result (not mandatory). 
After applying, the candidate is usually notified of the submission and can download the filled application form.
An expert committee reviews each application in the applicant's home country based on their academic accomplishments, research goals, letter of intent, social activities, and previous work experience. After the final evaluation, the selected candidates are invited for a formal interview. 
The interview is conducted by the interview committee that encompasses academicians and experts from Turkey and your home country. This interview is usually 15 to 20 minutes long.
All the selected candidates are notified by the authorities and are then required to prepare and submit a list of documents with their visa application.
Scholarship Link
Commonwealth Scholarship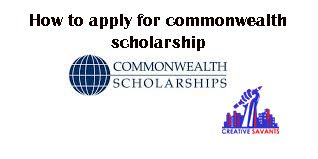 The Commonwealth scholarship program enables talented and motivated international scholars from lower and middle-income Commonwealth countries to undertake a full-time master's degree in some of the prestigious universities in the UK. This international scholarship allows learners to gain knowledge and develop practical skills required for sustainable development in their home country. This scholarship empowers talented students who cannot afford quality education in a developed country by funding postgraduate studies in various academic disciplines.
Fields of study
This Master's scholarship is offered under six CSC Development themes which are as follows:
Access, inclusion and opportunity
Promoting global prosperity
Science and technology for development
Strengthening global peace, security and governance
Strengthening health systems and capacity
Strengthening resilience and response to crises
Scholarship deadline
The applications for this international scholarship usually open in December, annually. 
Eligible countries
This international scholarship is open to scholars from the following countries:
Bangladesh, Cameroon, Eswatini, The Gambia, Ghana, India, Kenya, Kiribati, Lesotho, Malawi, Mozambique, Nigeria, Pakistan, Papua New Guinea, Rwanda, Sierra Leone, Solomon Islands, Sri Lanka, Tanzania, Tuvalu, Uganda, Vanuatu, Zambia.
Scholarship eligibility criteria
To be eligible for this international scholarship, the applicant must:
Must be a citizen of or have been granted refugee status by an eligible commonwealth country 
Must be a permanent resident of the eligible commonwealth country
Must be available to commence their academic journey in the UK by the start of September
Must hold a first-class degree, or a lower second class degree or a relevant postgraduate qualification by September
No track record of studying or working for one or more academic years in any developed country
Must be unable to afford academic expenses in the UK
Scholarship benefits
A research scholar is awarded the following benefits:
Tuition and examination fee
Return airfare
Monthly stipend
Thesis grant
Study travel grant
Excess baggage allowance
Warm clothing allowance
Scholarship application/selection process
The applicant is required to apply to any one of the nominating bodies i.e., the national nominating agency or the selected non-governmental organization or charitable body.
Each nominating body will be responsible for managing the selection process and may have its own eligibility criteria for the applicant.
The applicant must apply using the CSC's online application system and double check if any other application is required by the nominating body or by the chosen university. The CSC does not accept any applications that are not submitted via the online application system. Also, be mindful of the closing date for admissions to your chosen university
After applying, the applicant must submit the supporting documentation by November. The supporting documentation for the application process include a citizen or refugee status proof, transcripts, and reference forms
The applications are considered based on merit, study or research plan, and potential impact of the applicant on their country's development
Scholarship Link
Erasmus Mundus Scholarship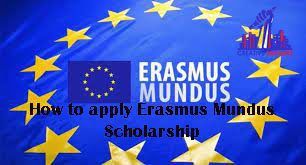 The Erasmus Mundus Scholarships are awarded to research scholars from both EU and non-EU member states to pursue their Master's or doctorate programs in some leading European universities. 
This scholarship aims to foster a culture of excellence and internationalization, so students from all over the world can carry out their academic and research endeavors in prestigious HEIs in Europe and improve their communication and inter-cultural skills to kick-start their professional careers on a solid note.
Fields of study
This international scholarship offers over 100+ Master's courses and 20+ joint doctorate courses in a wide array of disciplines, including engineering, health and welfare, humanities and arts, social sciences, business and law. 
Target groups
Group A: Open to nationals from other countries other than the European Union Member states, Iceland, Norway, Switzerland and Liechtenstein
Group B: Open to nationals from European Union Member states, Iceland, Norway, Switzerland and Liechtenstein
Scholarship deadline
Applications are open for the 2022 cohort. 
Scholarship eligibility criteria
The eligibility criteria for this international scholarship is set forth by the consortium offering the Masters' or Doctorate program. Some general eligibility criteria requirements include:
The candidate must have an undergraduate degree and demonstrate a recognized equivalent level of learning according to national rules and legislation of the awarding country.
Applicants who have already obtained Erasmus Mundus Joint Master Degrees (EMJMD) scholarship or former Erasmus Mundus Master/Doctoral Course scholarship holders cannot apply for an additional scholarship.
Scholarship benefits
Monthly allowance
Travelling and insurance costs
Participation costs
No bond restriction to return to home country
Job visa guaranteed after degree program
Scholarship application process
You can consult the online catalogue for the Erasmus Mundus scholarship program available on the official website. In this document, you can find detailed information pertaining to the funded programs, a list of participating universities and eligibility requirements
The program's website is the go-to source and will walk you through the entire application process. You can also contact your target university directly for any queries. 
The submission dates vary for each degree program, so keep an eye on the designated deadline.
Applicants can select up to 3 programs and can rank them in the order of preference.
Scholarship Link
DAAD Scholarships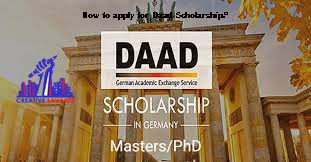 The German Academic Exchange Service (DAAD) scholarships allow international students from developing countries to study for a Master's or doctorate at a state-recognized German university. This international scholarship allows young, energetic and aspiring professionals to pursue their postgraduate education or training in their relevant discipline or profession. To secure this prestigious scholarship, the applicant needs to have at least two years of professional experience in the development sector in their home country.
Fields of study
Master's or PhD courses in media studies, economic sciences, business administration, engineering and related sciences, education and law and social sciences just to name a few. You can visit this page to get a complete list of eligible courses for the 2023-2024 cohort. 
https://static.daad.de/media/daad_de/pdfs_nicht_barrierefrei/in-deutschland-studieren-forschen-lehren/daad_programmbroschuere_entwicklungsbezogene_studiengaenge_2023-24.pdf
Scholarship deadline
The scholarships applications will open around September/October.
Scholarship eligibility criteria
The applicant:
Must be working in a public, private or state company in a developing country. They must be engaged in planning and executing projects that focus on developmental policies or have a bearing on socio-economic and technological areas.
Must hold a Bachelor's degree in a related subject
Has completed an academic degree with far above average results (upper third) with at least two years of professional experience at the time of application
The gap between their previous degree and the applied degree should not be more than six years
For courses in German: the applicant must pass out the language examination DSH 2 or TestDaF 4 before starting the designated course. The applicant must secure a minimum B1 German language level.
For courses in English: the applicant must secure IELTS (band 6) or TOEFL (minimum score: 550 paper-based, 213 computer-based, 80 internet-based)
Scholarship benefits
Monthly stipend 
Health, accident and personal liability insurance
Travel allowance
Accommodation
Monthly allowance for accompanying family members
Monthly rent subsidy
Scholarship application and selection process
The first step of the application is to download the online form from the website and fill in all the relevant information.
The next step is to download a Europas Specimen form to allow the applicant to develop a personalized CV with their hand-signed signature.
For the application, you require a hand-signed motivation letter that must specify your previous work experience. The German universities can also request a research proposal which needs to be mailed the application documents.
Attach a recommendation letter from your previous university and a professional referral letter from your previous employer. Other documents include certificates of employment, proof of language skills, copies of academic degrees and copies of transcripts, 
All the interested applicants must apply directly to the university for degree courses in their relevant subject. You can either apply online for a course at a German University or can send hardcopy applications through postal services.
After receiving your complete applications, a selection committee suggests potential candidates for this international scholarship whom DAAD then contacts to upload complete applications on the portal. 
 
Scholarship Link
Swiss Government Excellence Scholarships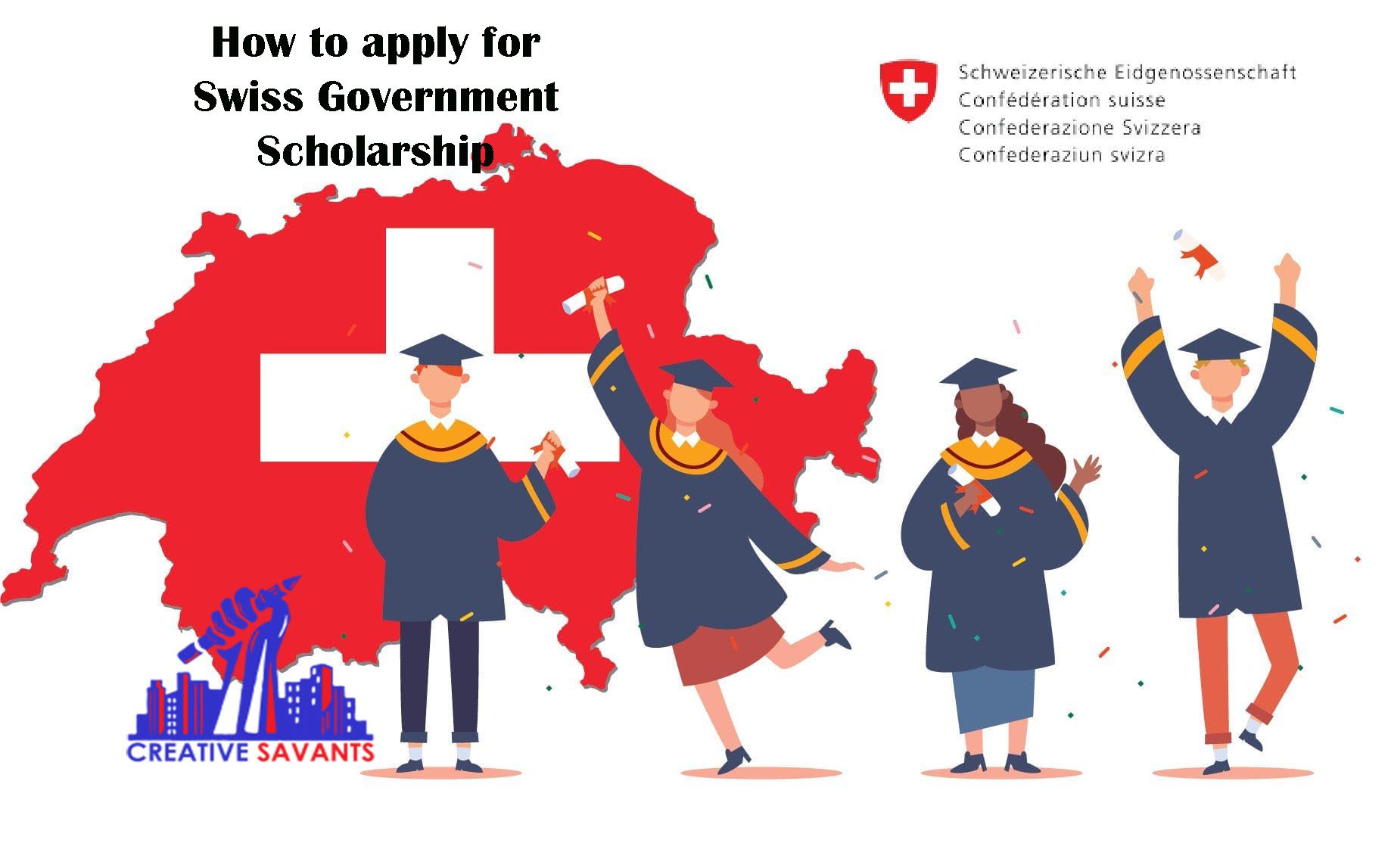 The Swiss Government Excellence Scholarships are awarded annually to international research scholars from over 180 countries to promote research cooperation and facilitate international student exchange programs. This fully-funded Doctoral or Postdoctoral scholarship allows ambitious and self-motivated students to undertake their research endeavors in the vibrant multicultural milieu of Switzerland, known as one of the leading educational hubs in the world. 
Fields of study
Doctoral or Postdoctoral Studies or research in any academic discipline offered in the 10 Swiss cantonal universities, two Swiss federal institutes of technology, or other public teaching and research institutes.
Scholarship deadline
The scholarship usually opens in September/October, annually
Scholarship eligibility criteria
The eligibility criteria are different for each country or region. You can visit the official website to check your home country's eligibility requirements. However, some general requirements include:
Master's degree or equivalent university degree achieved before July 31, 2022. This degree needs to be submitted to the Federal Commission for Scholarships, before commencing the scholarship.
The applicant should not be born later than December 31, 1985
The applicant must secure a letter from an academic host professor at the selected Swiss university confirming that they are willing to supervise the PhD thesis.
Applicants who have already secured a Swiss Government Scholarship are not eligible for a second scholarship.
Scholarship benefits
Monthly allowance
Airfare 
Housing allowance (paid once)
Public transportation card
Health insurance
Other support services (trips, dinners and sightseeing tours)
Scholarship application and selection process
All the applicants must visit their country-specific web pages, to find more about the eligibility criteria, application procedure, documentation and deadlines. If you fulfil the eligibility criteria, you can contact the Swiss diplomatic representation of your home country, that will provide you with the application form and a list of required documents.
Some of the required documents include a list of academic publications, motivation letter, research proposal, copy of a letter from a Swiss academic professor, letter of recommendations, medical certificate, academic degrees, and transcripts.
The applications are usually subjected to a preliminary selection by the national authorities or Swiss diplomatic representation. Later, the shortlisted applicants are evaluated by the Federal Commission for Scholarships for Foreign Students, making the final selection decision.
The selection criteria include the applicant's academic profile and their research capacity and motivation, the research project's efficacy and the overall quality and context of supervision and its future potential for cooperation.
Scholarship Link
Rotary Foundation Global Study Grants for Development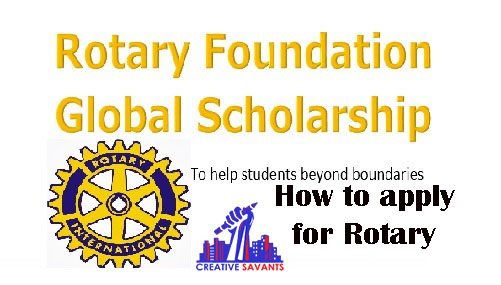 The Rotary foundation global study grants are offered to students who wish to pursue their graduate degree program or research work for one to four years in a country with a rotary club or district. This global study grants aims to coursework in any of the six focus areas: peace and conflict prevention/resolution, disease prevention and treatment, water and sanitation, maternal and child health, basic education, and literacy, and economic and community development. The applicant can pursue their degree program in any recognized university located in a country with a host Rotary club or district. 
Scholarship deadline
Rolling basis. Open throughout the year.
Scholarship eligibility criteria
The eligibility requirements may vary for each country or region. You can refer to the scholarship page of your home country's rotary club or district.
Scholarship benefits
The candidate is eligible for the following benefits:
A global grant scholarship worth $30,000
Travel expenses
School supplies
Tuition fee
Accommodation
Household supplies
Language training courses
Passport/visa 
Inoculations
Local transportation expenses
Scholarship application and selection process
All the interested applicants can contact their local Rotary clubs to inquire more details about this scholarship grant and other eligibility criteria.
The applications are accepted on a rolling basis all over the year. However, all the applications need to be submitted at least months before the intended departure date, so the foundation can review and process the application on time.
The host and the sponsor appoint a grant committee encompassing at least three Rotarians.
All the applications for this international grant are submitted online. The sponsor club or district creates the initial application and, after selection, notifies the applicant. They are also responsible for providing all the grant-related information to the applicant.
The scholars for the grant are selected based on their area of focus, their long-term commitment toward change, previous volunteer experience, academic accomplishments, and career goals. 
After the candidate is nominated for the grant, they are provided with a complete timeline and other relevant information. The applicant is then required to create their rotary account and complete their application. 
Scholarship Link
Joint Japan World Bank Scholarships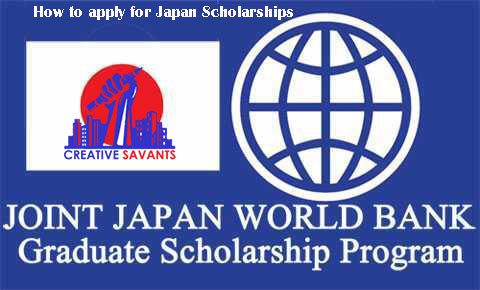 Joint Japan World Bank Scholarships are offered to nationals from certain developing countries with relevant professional experience and a history of serving or supporting their country's development efforts. JJWBGS offers 26 participating programs that focus on key areas of development, including tax policy, infrastructure management, economic policy management, and food and development, just to name a few.
Fields of study
This international scholarship offers a wide array of Master's courses in participating universities based in the US, Europe, Africa, Japan and Oceania. 
Scholarship deadline
The applications are currently open for all scholars from World Bank Member Countries.
Scholarship eligibility criteria
To secure this scholarship, the applicant:
Must be a national/citizen of a World Bank member country.
Must not hold dual citizenship.
Must be in good health.
Must hold a bachelor's or equivalent first-class degree, at least 3 years before the application date
Must have three or more years of experience in the developmental sector, after completing their undergrad
When applying, be employed as a paid full-time employee in the developmental sector. 
Must be admitted unconditionally for the upcoming academic year in one of the participating Master's programs, outside the home country.
Must not be an employee, staff member, or a close relative of an employee appointed at the World Bank Group. 
Scholarship benefits
This scholarship offers:
Tuition fee
Monthly stipend
Round trip airfare
Health insurance
Travel allowance
Scholarship application and selection process
To apply for the scholarship, you need to first apply and get unconditional acceptance in at least one of the participating programs. Once the applications are open, you can apply for this international scholarship online. There are 2 application windows for the participating programs: Window 1 (Jan to Feb, 2022) and Window 2: (March to May, 2022).
The application must include two recommendation letters, a completed application form, academic degrees and transcripts, a CV, an unconditional letter, and work experience documents.
If the applicant is selected for two or more programs, they need to inform the scholarship committee about the course they need funding for.
After submission, you will receive an email from 

[email protected]

 confirming that your application has been submitted. However, if you do not receive this email within one hour of submission, you must return to the portal and resubmit the form.
The selection process for this international scholarship is rigorous. Two qualified assessors evaluate your application eligibility and score them on a scale of 1 to 10. These criteria include professional experience, recommendation letters, educational background, and commitment to your home country
JJ/WBGSP Secretariat then uses this average score to select the final candidates. This list is then forwarded to the JJ/WBG Steering Committee, who then approves applications and notifies the winners
Scholarship Link
Are you planning to apply for an undergrad or grad international scholarship program this year? Are you struggling with writing a compelling personal statement to secure the scholarship of your dreams? If yes, contact our expert writers at Creative Savants, who can help you ace your personal statement, so you can impress the international scholarship committee.
Creative Savants offers a range of premium content writing, academic writing, thesis writing, copywriting, and website content development services at affordable and pocket-friendly rates. We provide students and research scholars worldwide with unique, top-notch and plagiarism-free content that helps them soar high with flying colors.