After deciding on a topic, the most difficult part of writing a document is merely getting started. If you have working framework ready, it will help you not only to organize your writing so that you know what you need to write but also how the completed essay should look like to wow the readers. The following statement of purpose (or statement of interest) format provides some broad guidance so you may start brainstorming and writing to get an outstanding result.
What is a Statement of Purpose?
When applying for admission in any grad school or university, one of your major opportunities to assist the admissions committee understand your academic goals and assess if you are a suitable fit for the school you are applying to is to write an Academic Statement of Purpose. The main reason for writing this letter is to demonstrate to the admissions committee that you have a strong history and expertise in your field of interest, as well as the ability to succeed in graduate school.
If required, you can and you should rectify any gaps, flaws, or deficiencies in your academic record in the academic statement of purpose. You must be honest yet succinct in these instances. Focus on how you stayed tenacious in the pursuit of your objectives, overcame challenges and demonstrated resilience by transforming negatives into positives. You should share what you learnt from these experiences and how they helped you grow as a researcher, scholar, or a person.
Write an effective statement of purpose: https://caw.ceu.edu/writing-statement-purpose
Significance of Statement of Purpose
A statement of purpose is the most significant aspect of your application as, apart from your GPA and test scores, it lets the admission committee know what kind of person you are, what your future aspirations are, your long-term goals and objectives, how committed and dedicated you are to them, what will you do when you will become an alumnus, etc.
Moreover, it also
Allows you to describe what sets you different from other applicants in your own terms.
Demonstrates your ability to communicate in a variety of ways.
Give reviewers an insight of your academic history and interests
Enables them to see if you are a good fit for the program you are applying to.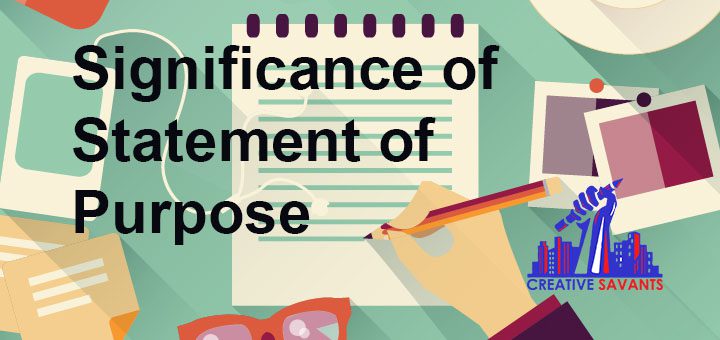 Statement of Purpose Vs Personal Statement
A personal statement is writing about who you are, whereas a statement of purpose is about what you intend to accomplish.  Each of these essays has its own set of objectives in terms of the school you are applying to what it should accomplish for you.
Unlike the statement of purpose, which highlights your career goals, academic strengths and background, your match to the program and research interests, the personal statement emphasizes on your underlying motives for applying to the program, as well as any significant achievements or obstacles you have encountered along the way.
Despite these significant variations, the overall goal for both statements is the same i.e., to persuade the admissions committee that you are a good match and will succeed in the program you are applying to.
How to write a Statement of Purpose
The easiest way to write your statement of purpose is to breakdown the process in following easy steps.
1.     The thought processes
First, make up your mind about writing your statement of purpose. Brainstorm ideas and gather them in an organized manner. Make sure you understand you are speaking to the admissions committee directly, so get yourself excited to write about your own unique story.
Ask yourself the following vital questions
What am I hoping to get out of this degree?
How will the program benefit from my particular professional and personal experiences?
What motivates me to pursue this degree?
Where do I hope to go with this degree, both personally and professionally?
What aspects of the courses or program most interest me?
2.     Construct a framework
After gathering your ideas through the brainstorming process, your constructed framework or outline should look somewhat like this:
      i.        Introduction
The introduction of your statement of purpose is supposed to be the attention grabbing hook for the readers. Write here about your personal and academic background describing your motivation to apply for the said program.
    ii.        Main body
Here, write about your relevant work experience and achievements in the field and your professional objectives in relation to the program to which you are applying. Also, explain why you are interested in this particular school and how you can add value to their program.
   iii.        Conclusion
Now, write a succinct overview of the material given in the body that highlights your qualifications and fit with the institution.
3.     Start writing
Remember that your statement of purpose is your way of communicating with the admissions committee. It Is your opportunity to tell your story in a unique way that distinguishes you from others. When you begin writing your document, make sure to;
Discuss the distinctive characteristics of the program you are interested in to demonstrate your interest in the institution.
Give examples of what motivates you, whether it's personal development, career progress, or both.
While writing, remember to keep your audience in mind, but don't forget to let your personality come through. Be yourself. When writing your statement, it's critical to be genuine in order to show the admissions committee who you are and why your unique viewpoint would benefit them.
What to Write in a Statement of Purpose?
Following information should be included in a statement of purpose
Describe yourself and your academic interests
Give a brief history of your field of interest and how you became interested in it.
You may also tell them why you opted to seek a graduate degree in this subject.
Describe your educational background, training, and preparedness.
Your academic, lab, or research experiences have taught you certain skills, write about them. For example, presentations, scholarly writings, undergraduate coursework, jobs in the field, research opportunities, etc. Also, whenever feasible, use concrete instances to explain your arguments rather than just telling them.
Mention your project title or emphasis, your unique involvement, research mentor, things your learned, and the conclusion of the study you performed. If you had any difficulties, don't be scared to share what you learnt from them. This demonstrates perseverance and resilience in the face of hardship, which are qualities they value.
Tell them about the thesis projects or research papers you did, as well as anything intellectual that goes beyond the scope of your academic degree.
Mention work or internship experience that is linked to the field for which you are applying.

Ensure that your decision is rational
Explain how the program and you are a good fit for each other.
Persuade the faculty that you comprehend the extent of the discipline's research and are aware of current research trends by sufficiently describing your area of interest in their graduate school.
Demonstrate why you are applying to this particular program and that you have done your homework on the program, the faculty as well as areas of research emphasis. This will enable you to create a better educated essay that will be appealing to the faculty members who will be assessing your application.
In case you have a particular faculty member in mind that you want to collaborate with, look at the statement of purpose requirements for the program and figure out how to best include it in your statement. Some programs ask you to choose a professor or professors with whom you would want to collaborate.
Write about your professional objectives. As a means of emphasizing the importance of your decision to pursue graduate education, you may want to explain what you plan to do once you finish the program.
Is there anything in particular about the program that you're interested in? for example, prospects for collaboration with others outside of the institution, associated research centres with the programs or any immersion program.
Include information about the program that is significant to you outside of it, such as, chances to engage in professional/career development activities, a welcoming atmosphere for first-year students, access to excellent literary resources, and so on.
Applicants for research degrees should select specific faculty and staff whose research interests are similar to their own.
Share any extracurricular activities you've participated in that demonstrate teaching abilities, the capacity to deal with a varied group of individuals, leadership, and so on.
Noteworthy Details
While writing a statement of purpose, some of the details should be kept in mind to make your document precise and accurate.
Finer details really do matter, so proofread thoroughly and pay attention to them.
This essay is centered academically, not necessarily a personal essay, unless otherwise stated. Probably, you will include some personal information here and there, but mainly keep the focus on your academic history and future prospects.
Have people from a range of backgrounds participate. Before you submit your essay, read it well to ensure that it is free of errors in language, style and substance.
Remember that people who are not in your area of expertise can provide you useful insight and comments.
Each program is different, and some have very specific topics or items that you must address. So, pay close attention and properly follow directions.
Keep in mind that once you've submitted your statement of purpose to programs with earlier deadlines, you can continue to revise it.
Format of Statement of Purpose
Ensure your sentences are clearer and less complicated with words by writing confidently and in an active voice.
Conventionally, 1-2 pages are written in a standard font and size, unless stated differently in the instructions.
Pages can become split if faculty are not viewing your application electronically, so, type your complete name and planned program of study at the beginning of each page.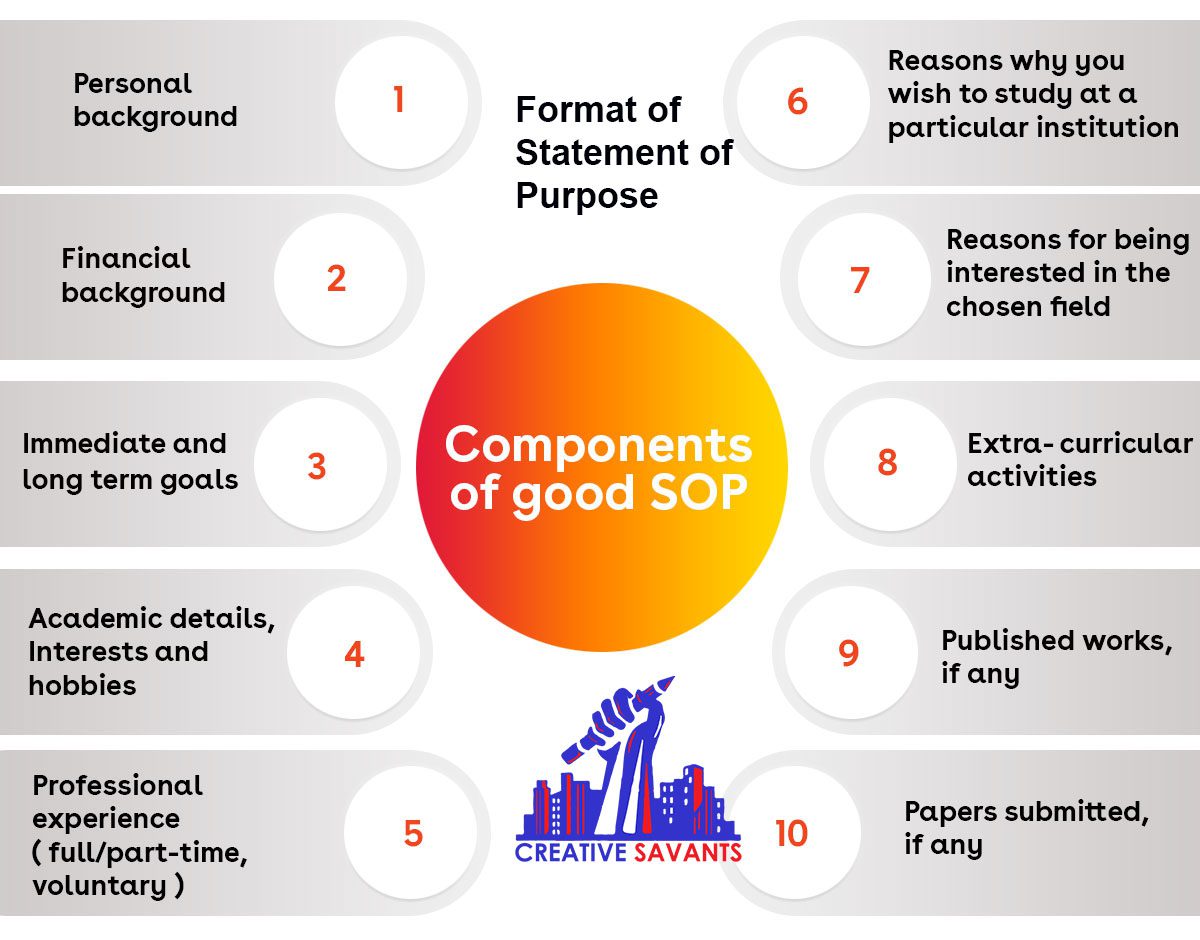 Statement of Purpose for Master's Degree and PhD
You cannot say that a master's degree is less than a doctorate however, it's just different. As a result, it would be incorrect to assume that the criteria for a statement of purpose in a doctorate program application are greater than those for master's degree applications. But the standards for the two degrees are unquestionably different. Let's say, you are applying for master's degree in social sciences, it would be difficult to specify any particular research subjects that you want to pursue as it is a very vast field. Therefore, it's acceptable to be unsure about these issues. But while writing your statement of purpose for doctoral degree, this uncertainty could be a great liability.
At the doctorate level, academic programs are more highly focused, and candidates should expect a commensurate degree of specialization and accuracy in the manner they define their academic goals. Even at the master's level, evidence of your acquaintance with the university's current educational research is generally a desirable thing to see in any statement of purpose.
However, in a doctorate application, you should clearly demonstrate that your interests are closely aligned with the present research of professors in the program to which you are seeking. As a result, doctorate applicants should definitely do this otherwise they will lose a significant competitive edge to those who pay attention to the above-mentioned factors.
Frequently Asked Questions (FAQs)
In a statement of purpose, what should you avoid writing?
In a graduate school statement of purpose, avoid contentious topics and strong beliefs unless they are clearly relevant to your field of study. You should not write anything that you would not say in a face-to-face interview.
Should I sign my statement of purpose with my name?
You don't have to write your name or course information anywhere in a typical statement of purpose. It will automatically include your name and course information as it is a part of your application.
What is a strong statement of purpose?
A solid statement of purpose will spell out your objectives for enrolling in the program and what you intend to achieve with the degree in a clear and concise manner.
What is the best way to finish a statement of purpose?
The conclusion should be a recap of the key points from your statement of purpose of graduate school. The key aspects of the statement of purpose should be included in the conclusion. The conclusion of the Statement of Purpose should be as well-written and grammatically sound as the rest of the document.
What is the proper format for a statement of purpose?
A conventional statement of purpose is written in a maximum of 12-point font, two pages long and is double spaced with regular margins unless otherwise stated. As a result, a normal statement of purpose would be between 800 and 1000 words long, depending on the font type. No usage of colourful text or graphics should be made anywhere.